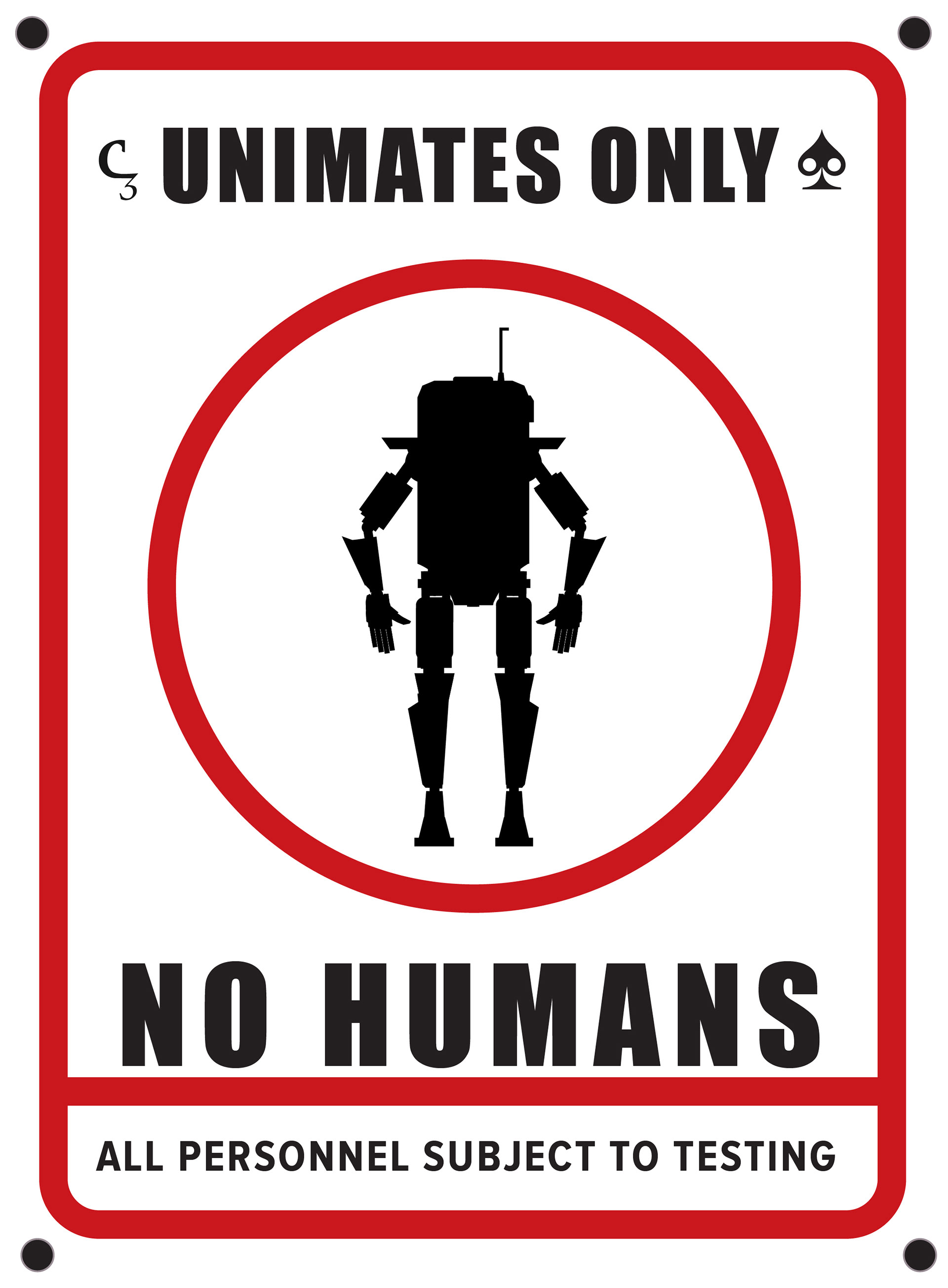 MICA Undergraduate 2019 Graphic Design Degree Project
To view the full web project, click here: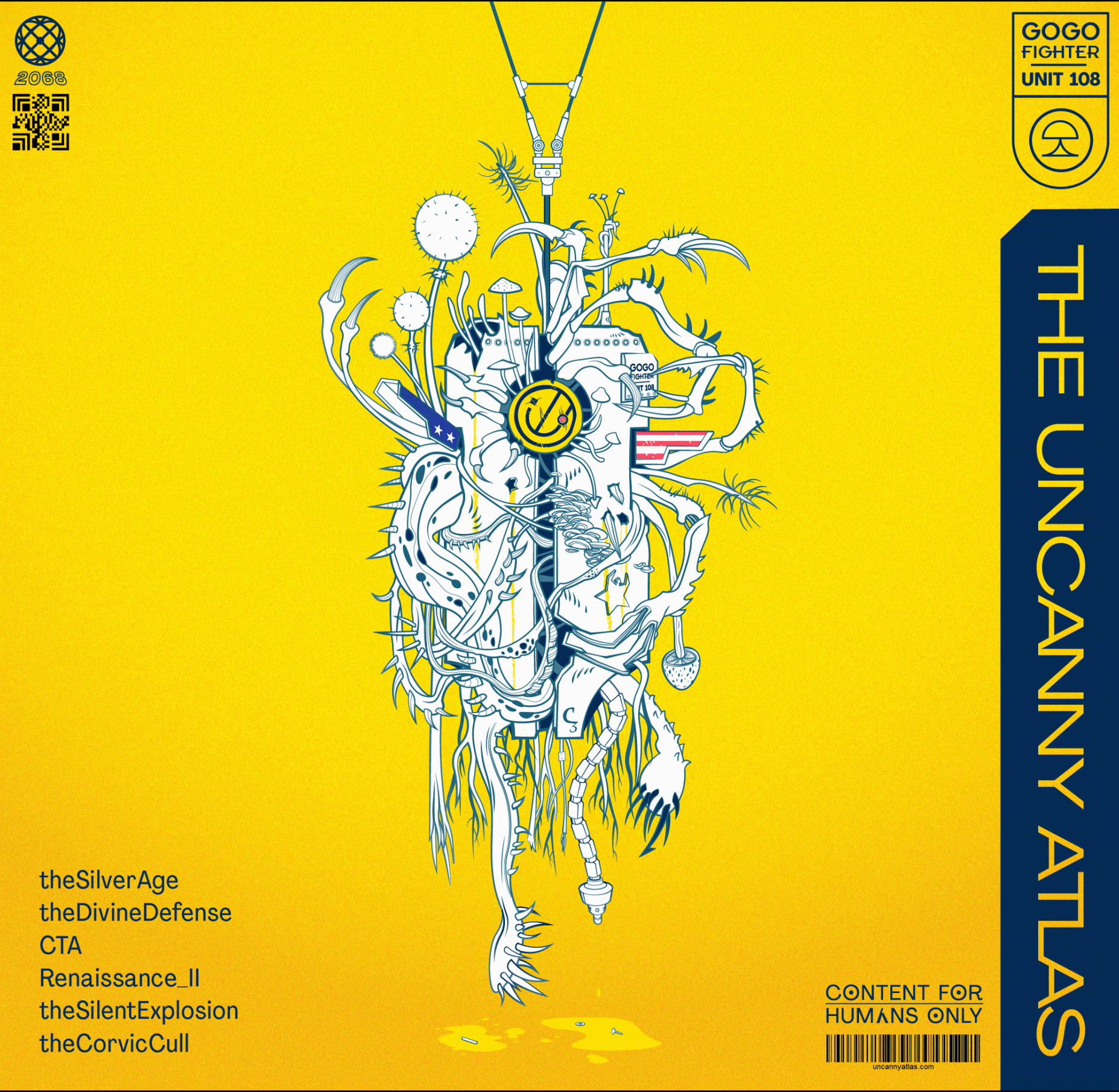 The Uncanny Atlas Archive

is an objective, design-centered, and peripheral exploration of a speculative and dystopian world, and 
the presentation of fictional objects as real, tangible objects, a gallery of the history of the future. 
I created a chronological web gallery and physical display of fictional but realistic (both conceptually and physically) designed objects that collectively and contextually convey a larger meta-narrative story that can be experienced like a novel and other long-form narrative mediums. Many individual pieces create an ecosystem of ideas and signs, and thus a map of understanding.
I created, crafted, and established as much peripheral detail of a speculated, imaginary world as I can so that one can be conceptually and visually immersed into a world that critically deals with the progression of our society, government, politics, philosophy, and humanity. 
By making a seemingly distant (and at times undesirable) world feel tangible, I can maybe encourage critical thought about the present. 
The moment (even for a second) you believe any of these pieces may be real, my fiction has successfully impeded into reality.
Hanging the works in a curve created a cornucopia-like immersive effect, acted as a funnel to guide the viewer to the center screen, and was more space efficient.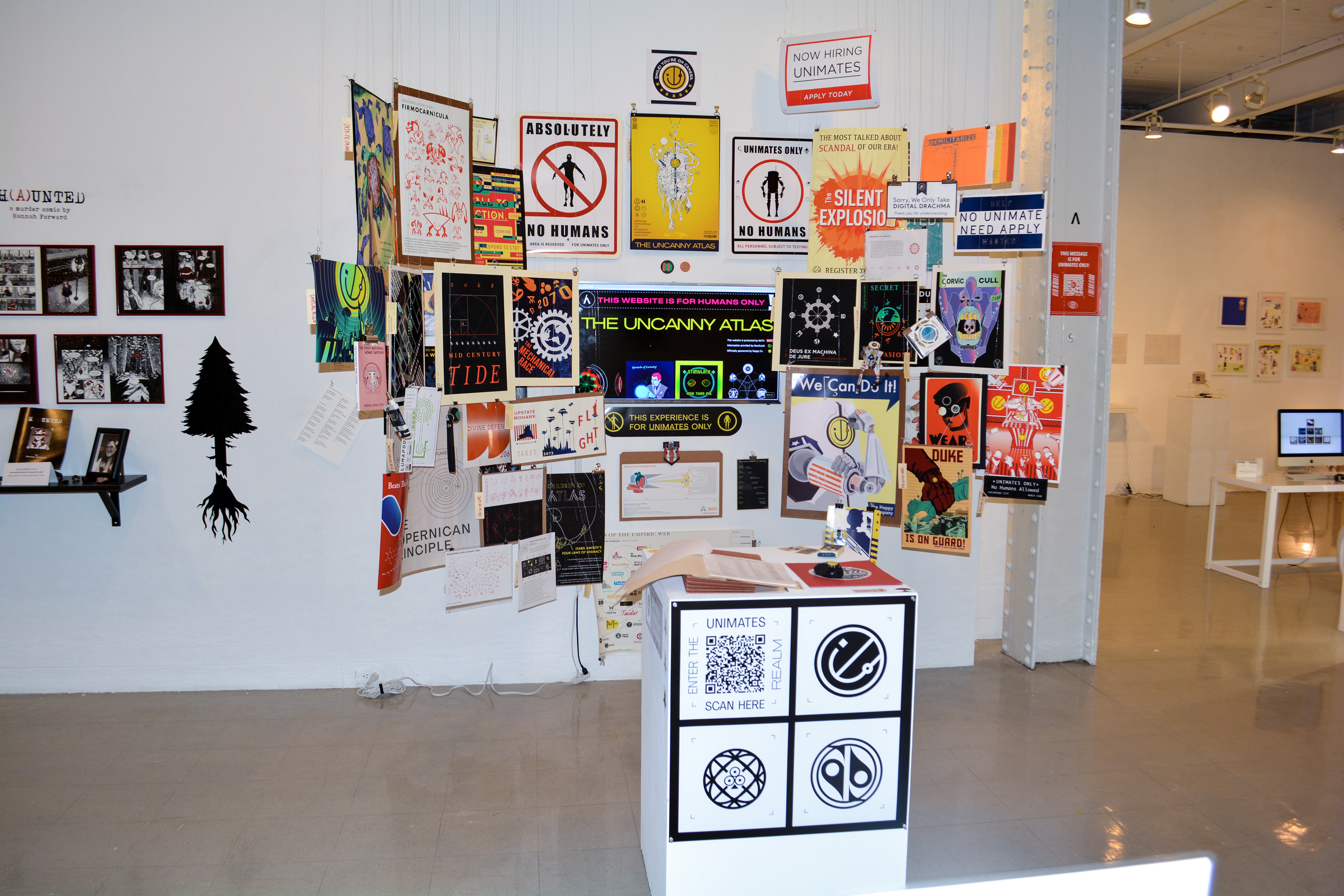 Realism and accessibility to all of the pieces created was essential. So I created a believable web archive "from the future", that seemed to chronologically document art pieces from eras ahead.

As a large part of the work explores the impacts of an alien species being found developing on Earth, I also created an electronic biological anthology of the alien species.
To remove the "artist's hand" through the sheer quantity and volume of items, I created over 400 unique pieces for this project, all viewable in a chronological web archive that I made accessible in the exhibition as well.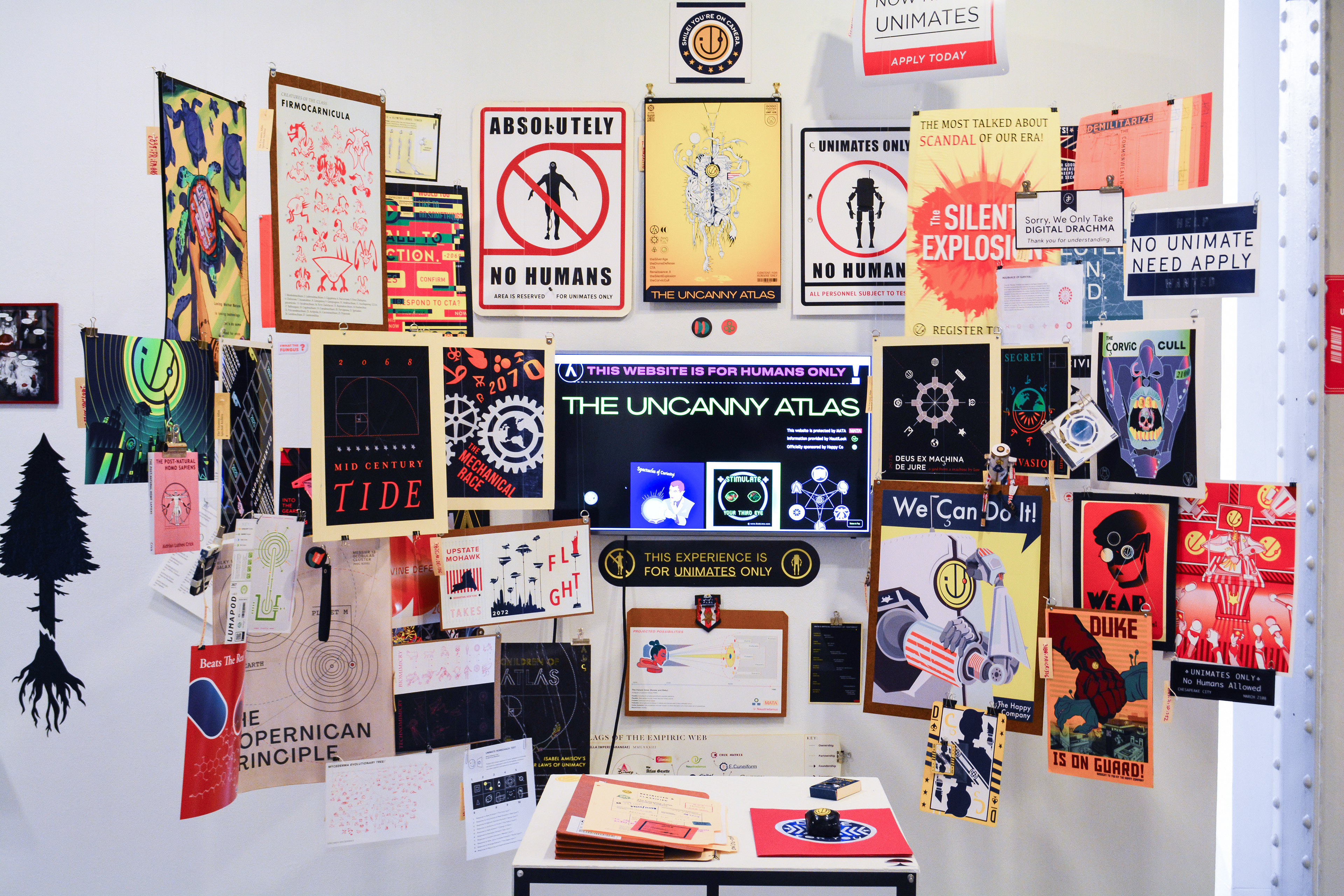 The story is told through the progressing, changing, and evolving topics of artwork that are juxtaposed chronologically. This makes it a meta-narrative style story, a larger story told through many mediums.
This lack of a singular focus forces the viewer participate in the discovery of the story by figuring out the ongoings of the many plots layered within the context clues.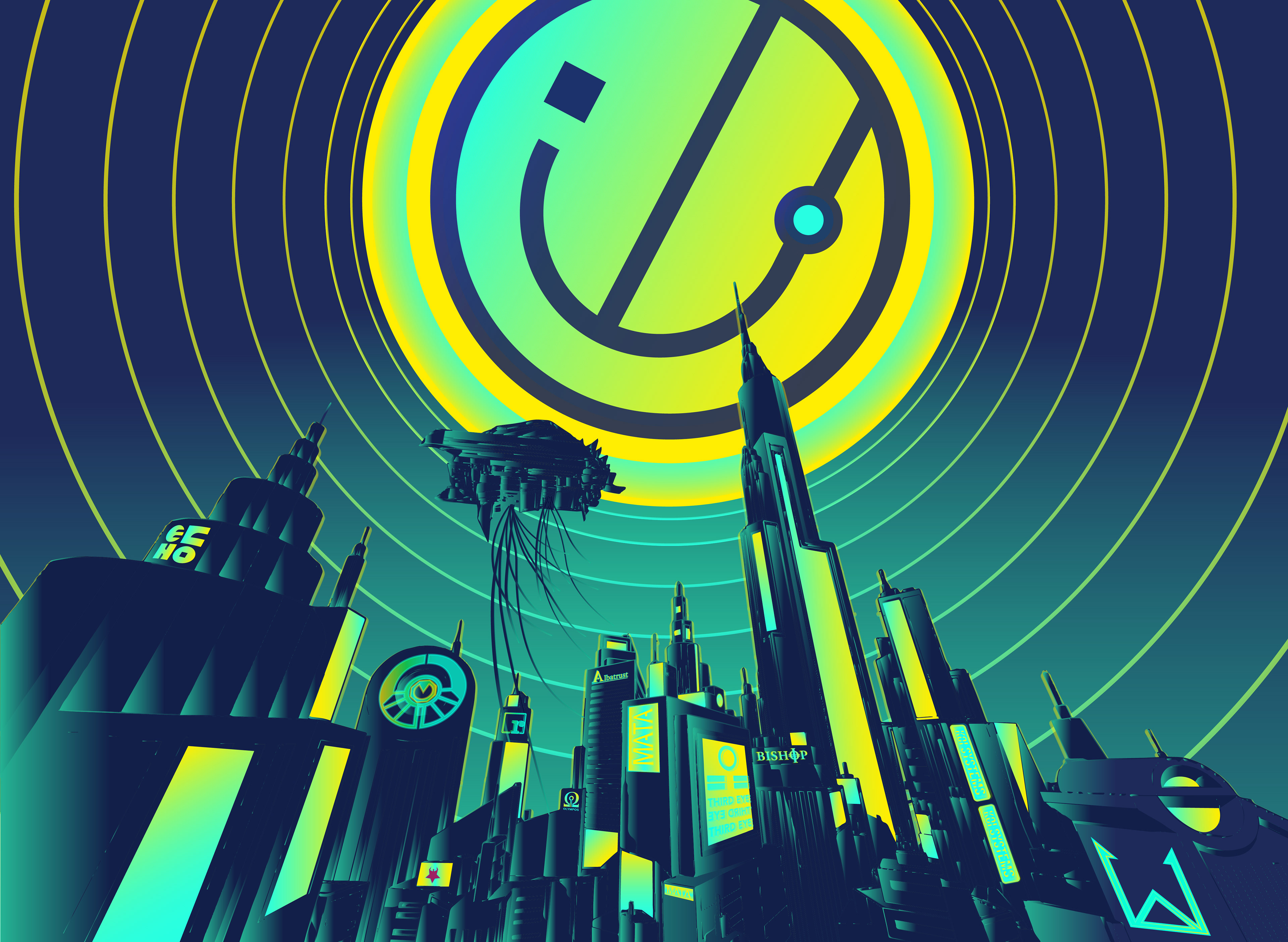 The designed body of pieces and objects were intended to feel as realistic (or at least plausible) as possible. Many of them directly reference real, iconic to obscure artwork, but slightly alter the meaning and inject a new context into the original piece. This is a technique similar to
détournement
, which is the weaponization and utilization of media through recontextualization and imitation with variation.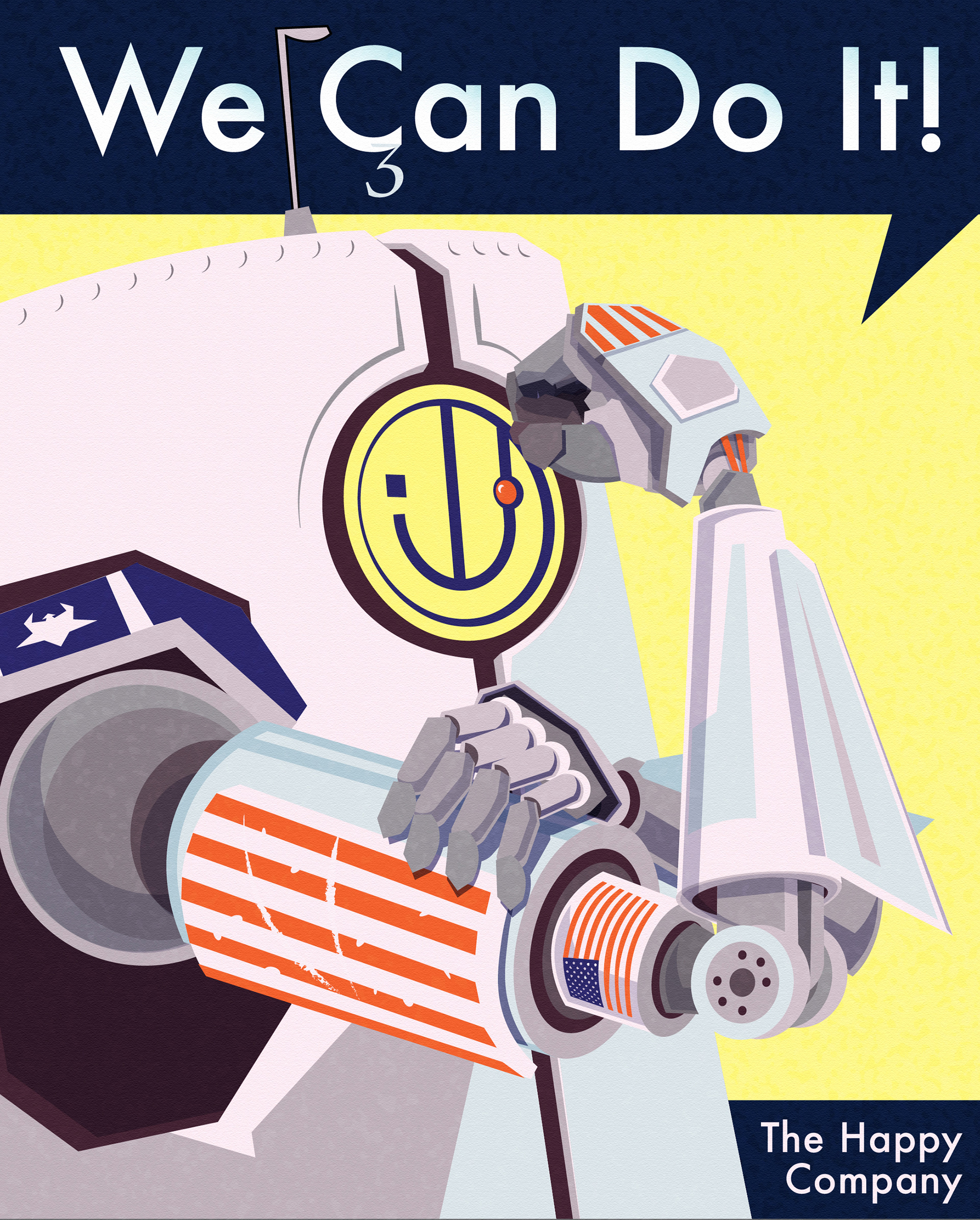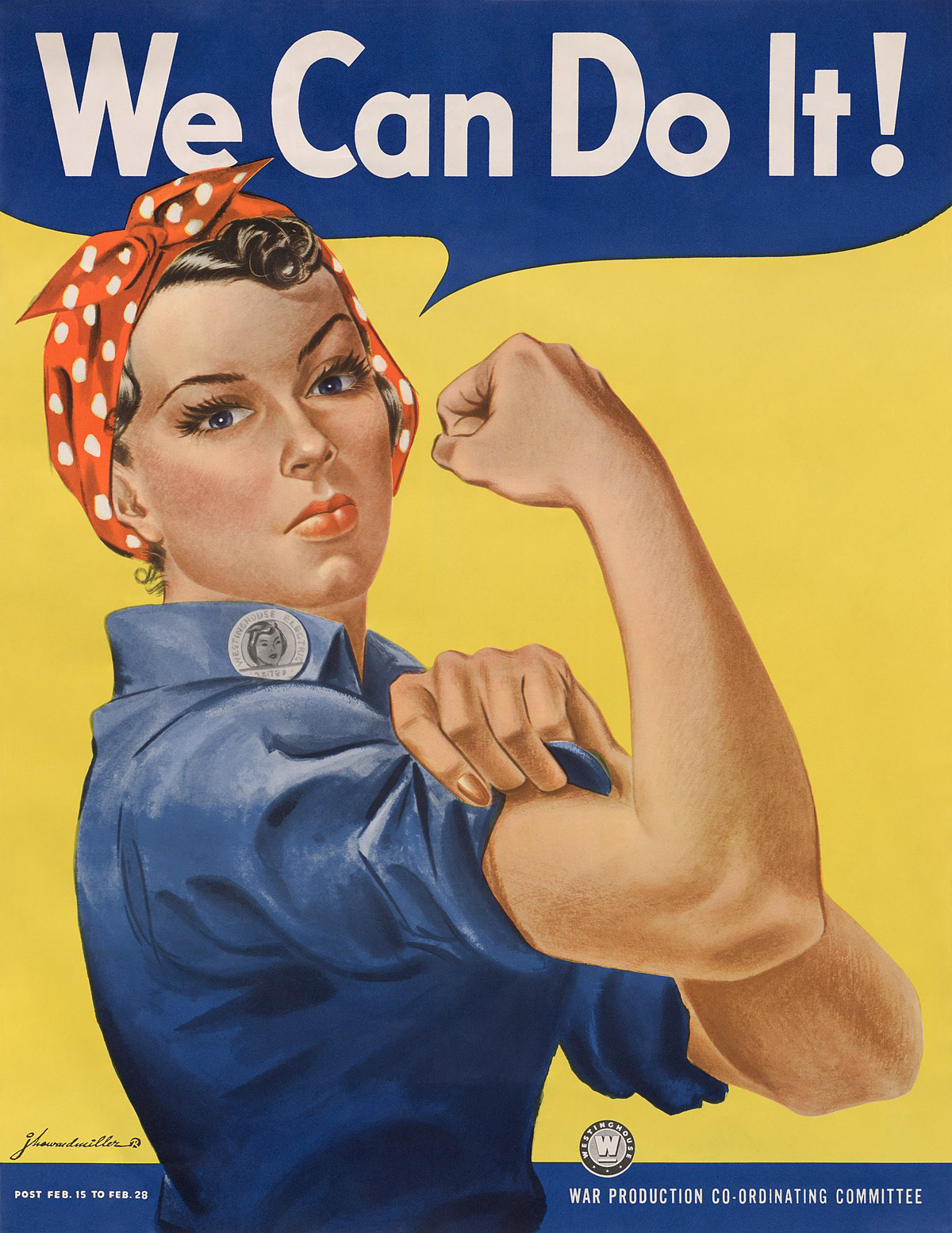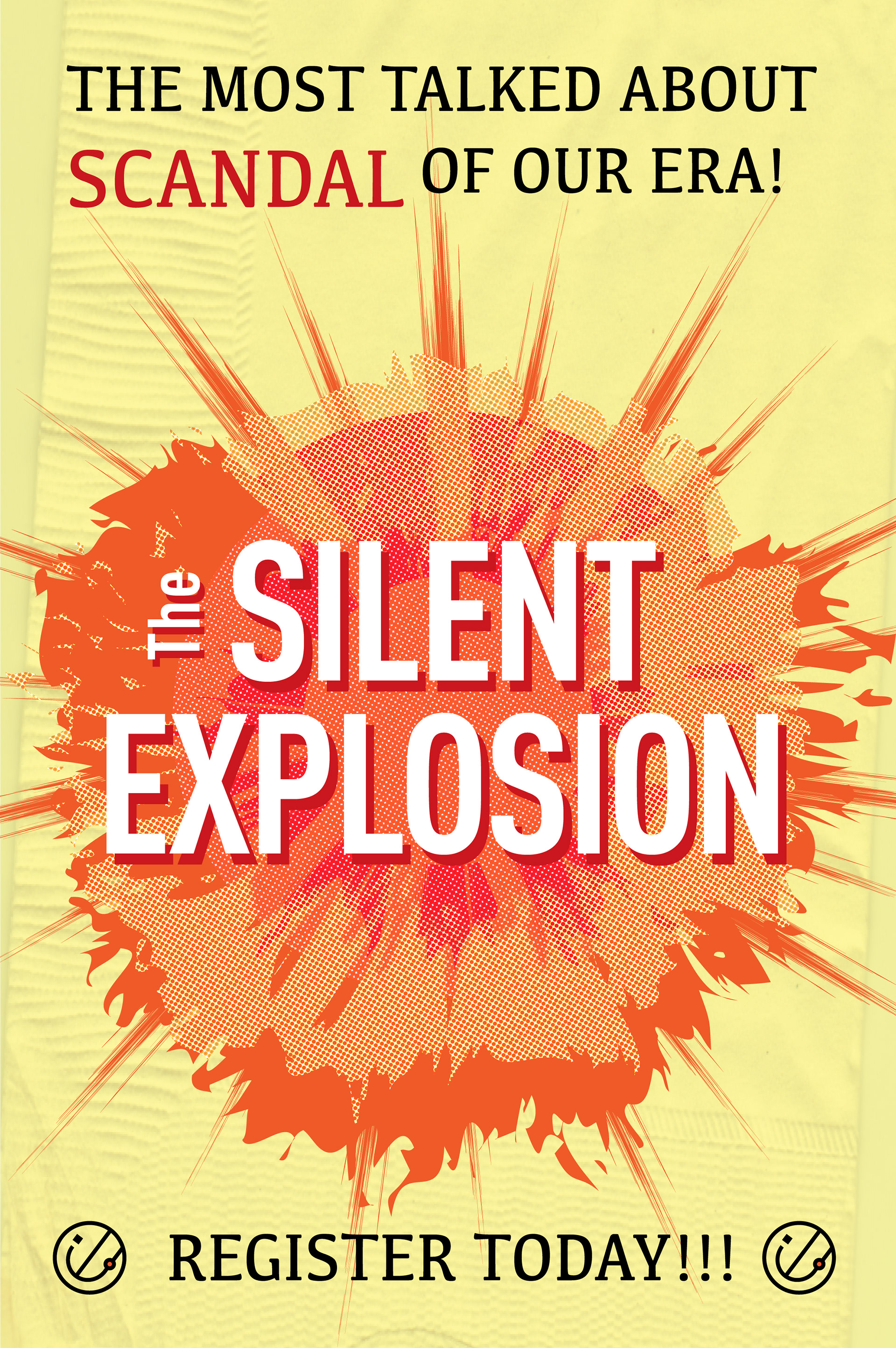 Fictional inventions, products, events, crises, even influencers, were communicated to the viewer disguised as "objective" forms of design and media, like ads, propaganda, entertainment, infographics, and fine art. 
Each piece serves to act as a sort of "Trojan horse", a device to get the viewer onboard and to consider the plausibility of a fictional concept's existence.
These pieces served to peripherally contextualize and familiarize the audience about the concepts at play, as well as the circumstances of the speculated world.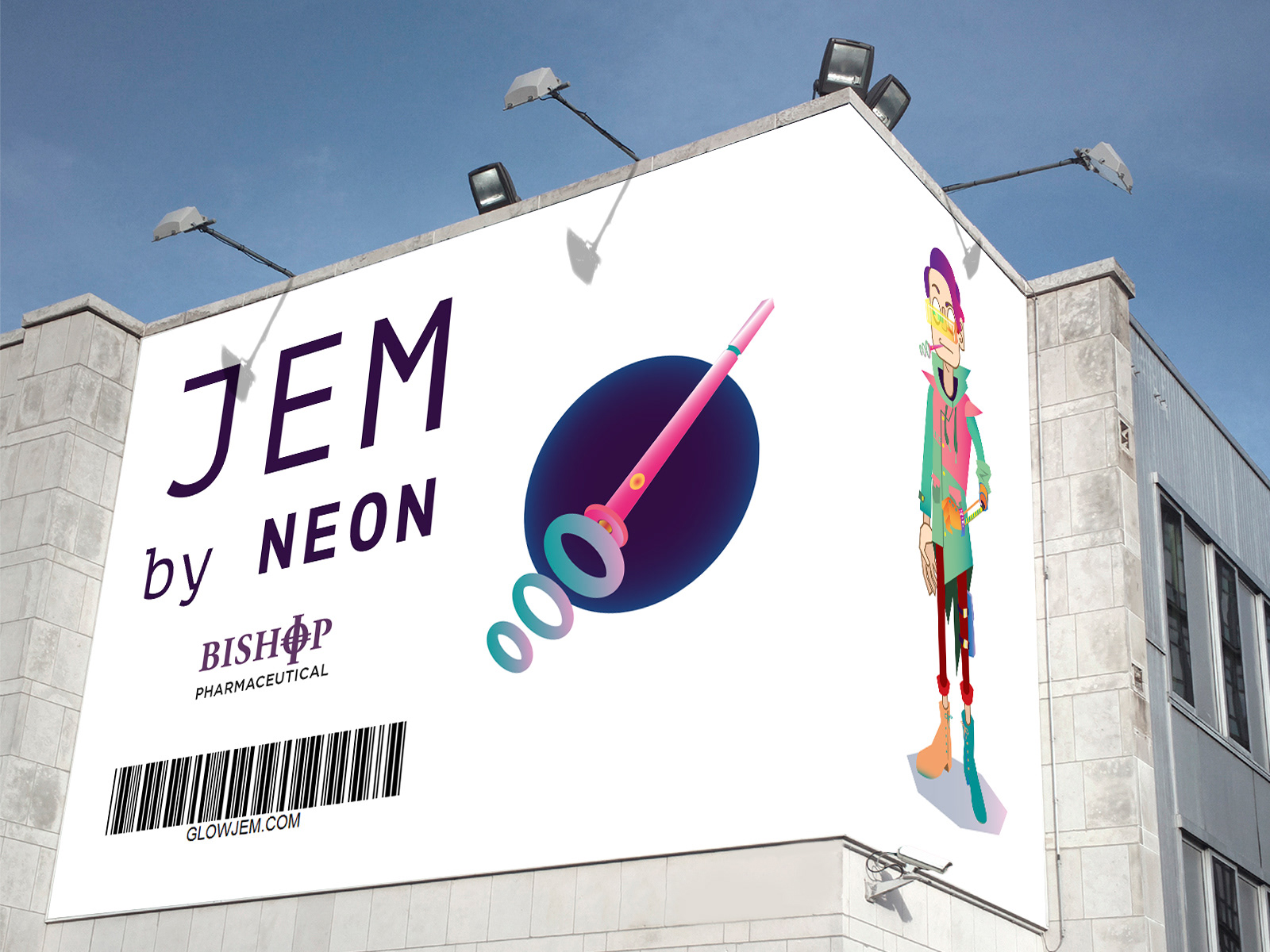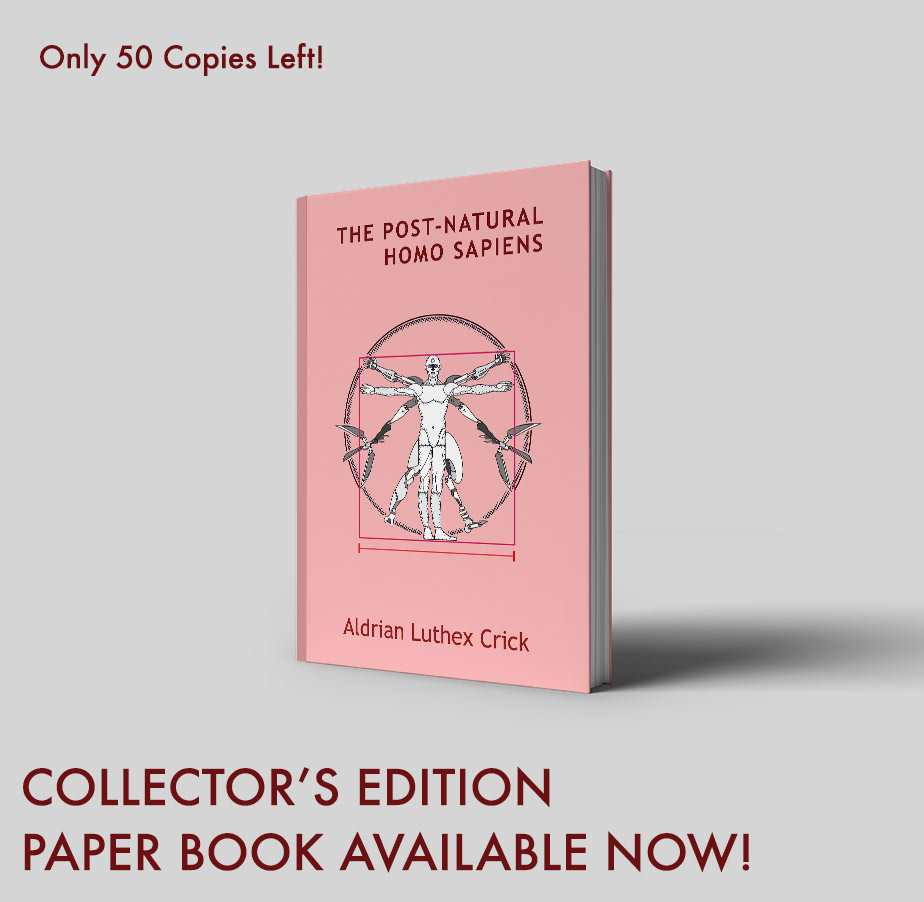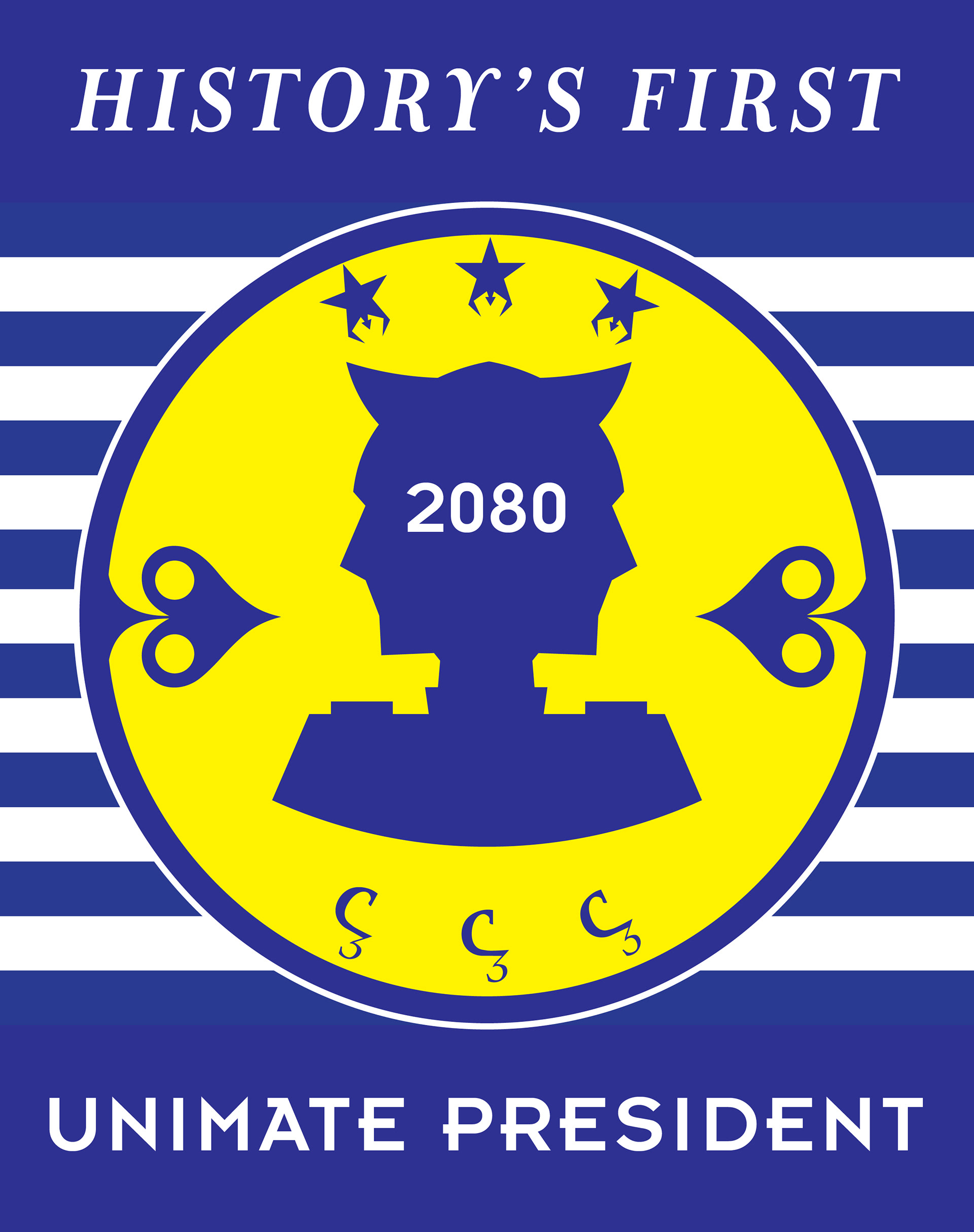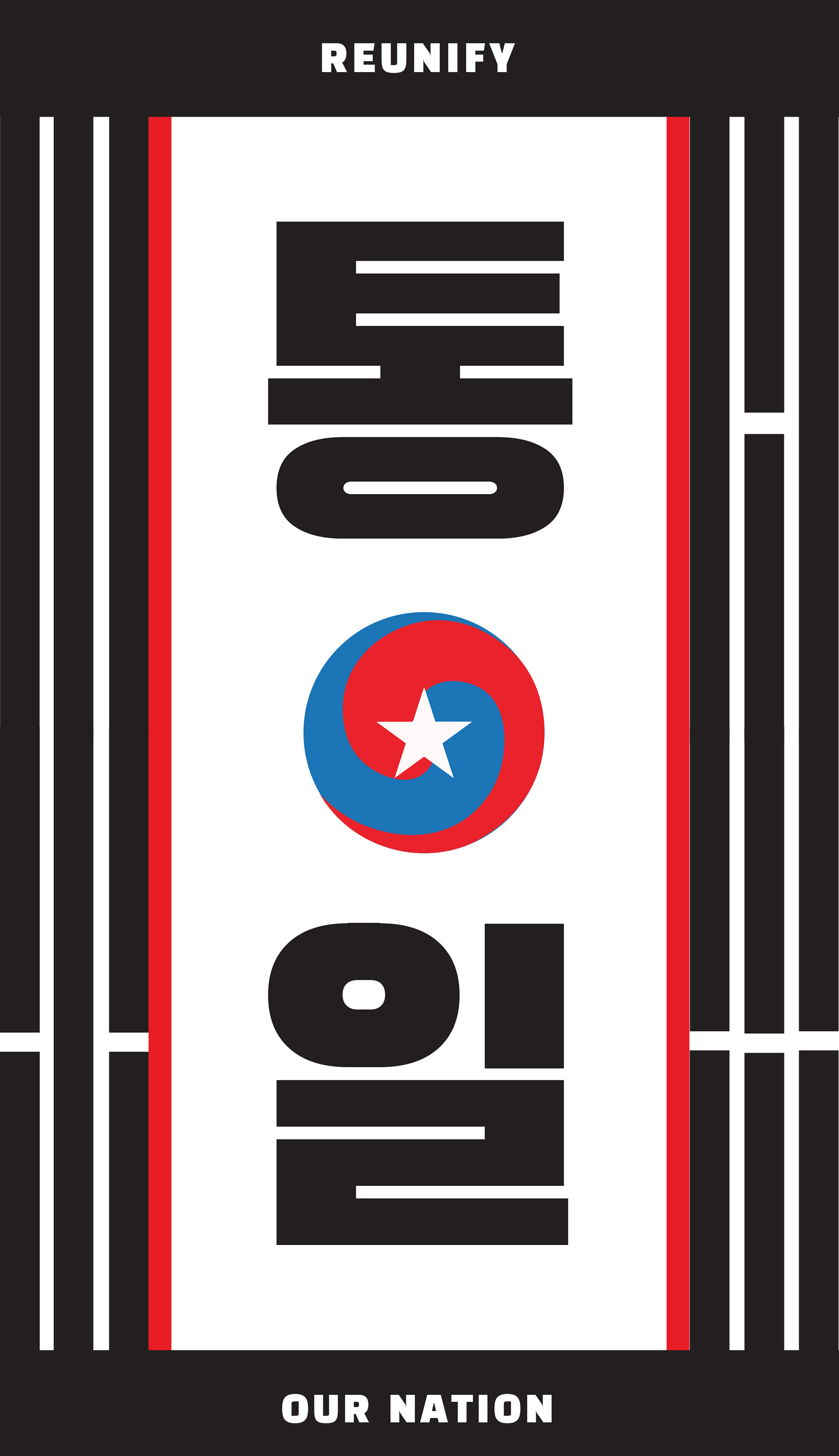 I classify the genre of this world as "Glitch Punk", which is similar to Cyber Punk, but is contingent on the idea of slight variation leading to drastically different yet familiar results, aka the "Glitch". 
In this sense, I make slight variations to the current and historical reality. 
I then nurture the possibilities of small to large Dystopian, fictional variables (ie: a character based on Elon Musk named Noel Reeves, to an alien species being discovered on Earth), and flavorfully speculate the possible responses of society as time progresses.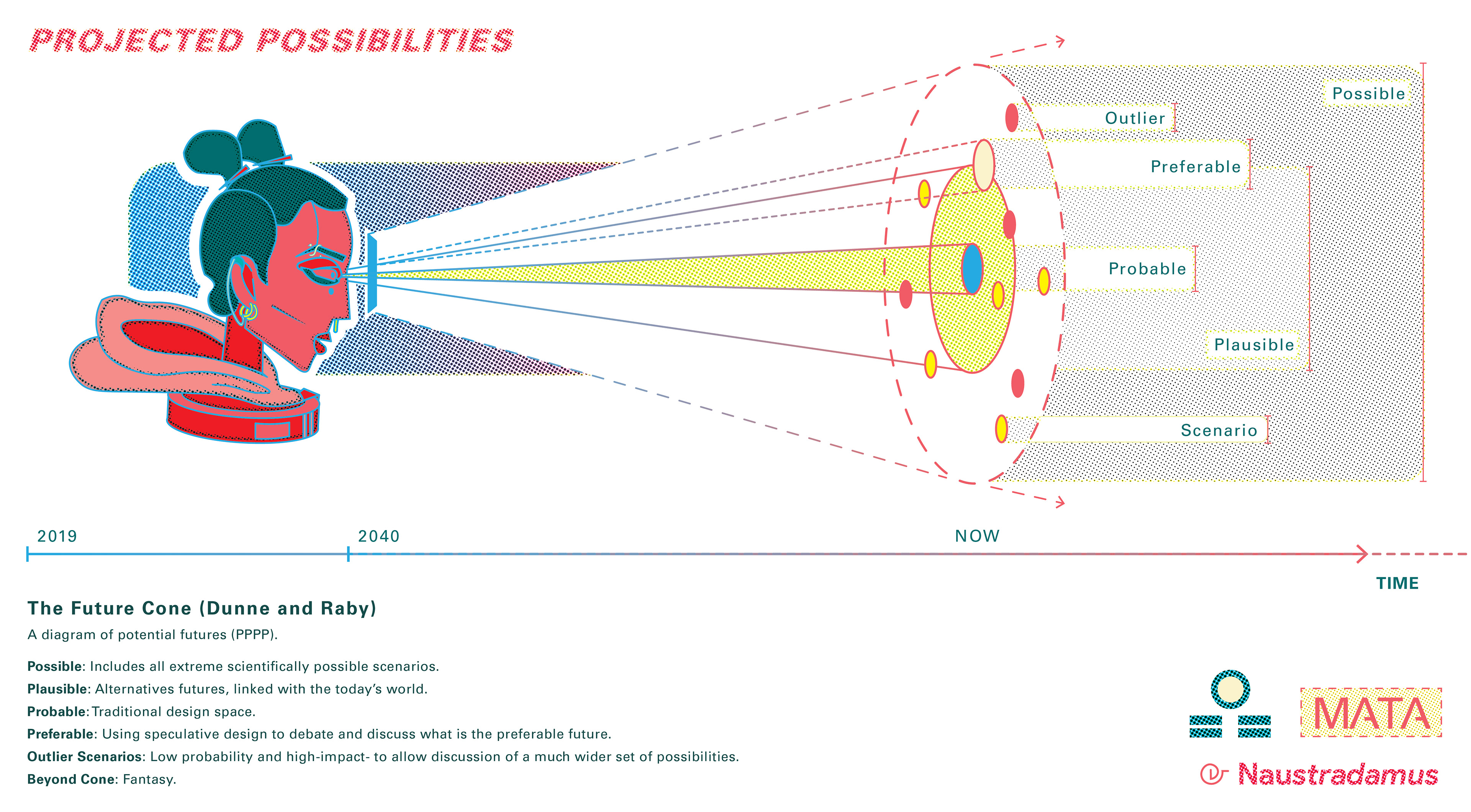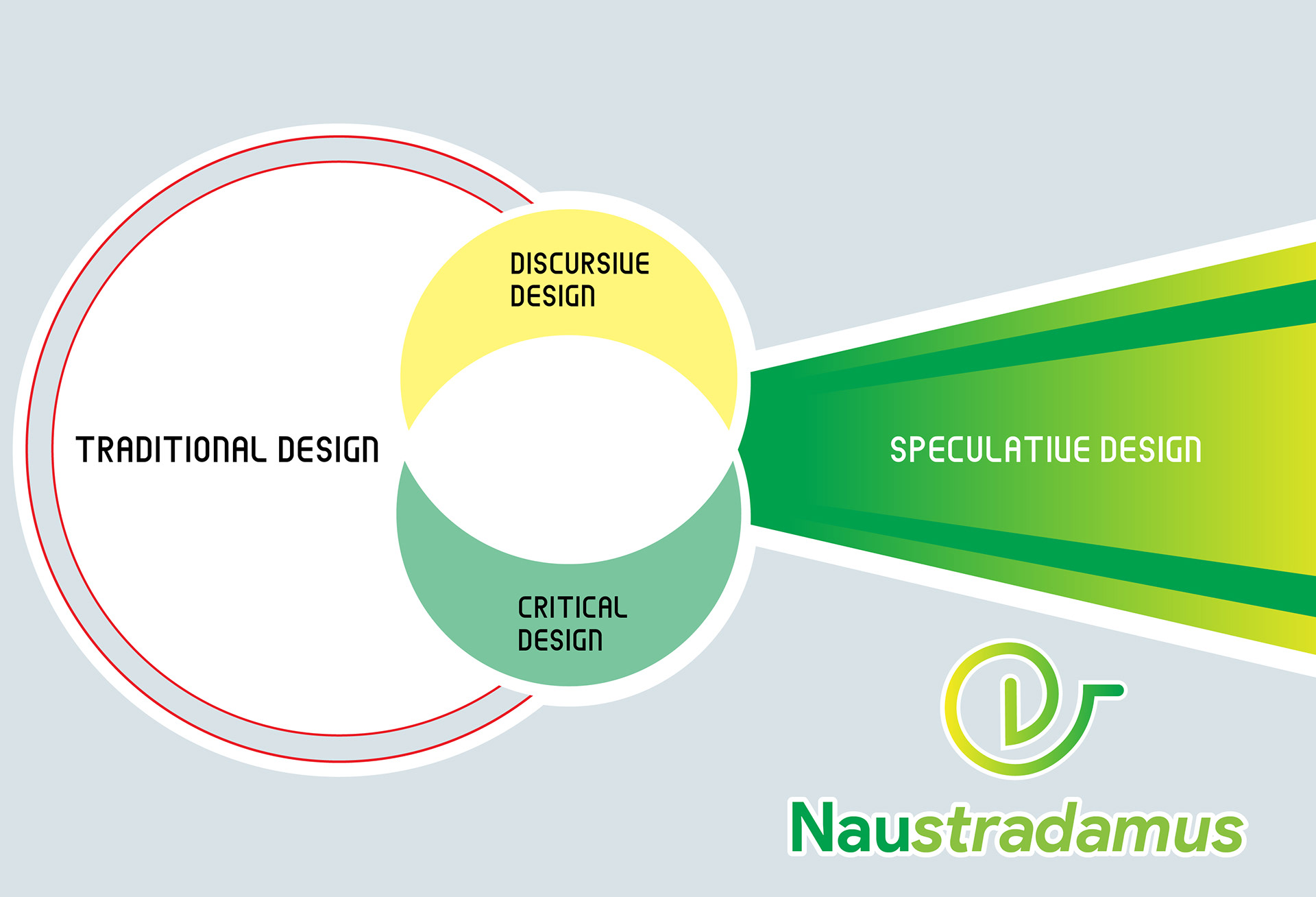 By imitating real-world signage and way finding, I tried to immerse the physical viewer into the world. For the moment they are at the exhibit, they are stepping into this fictional realm.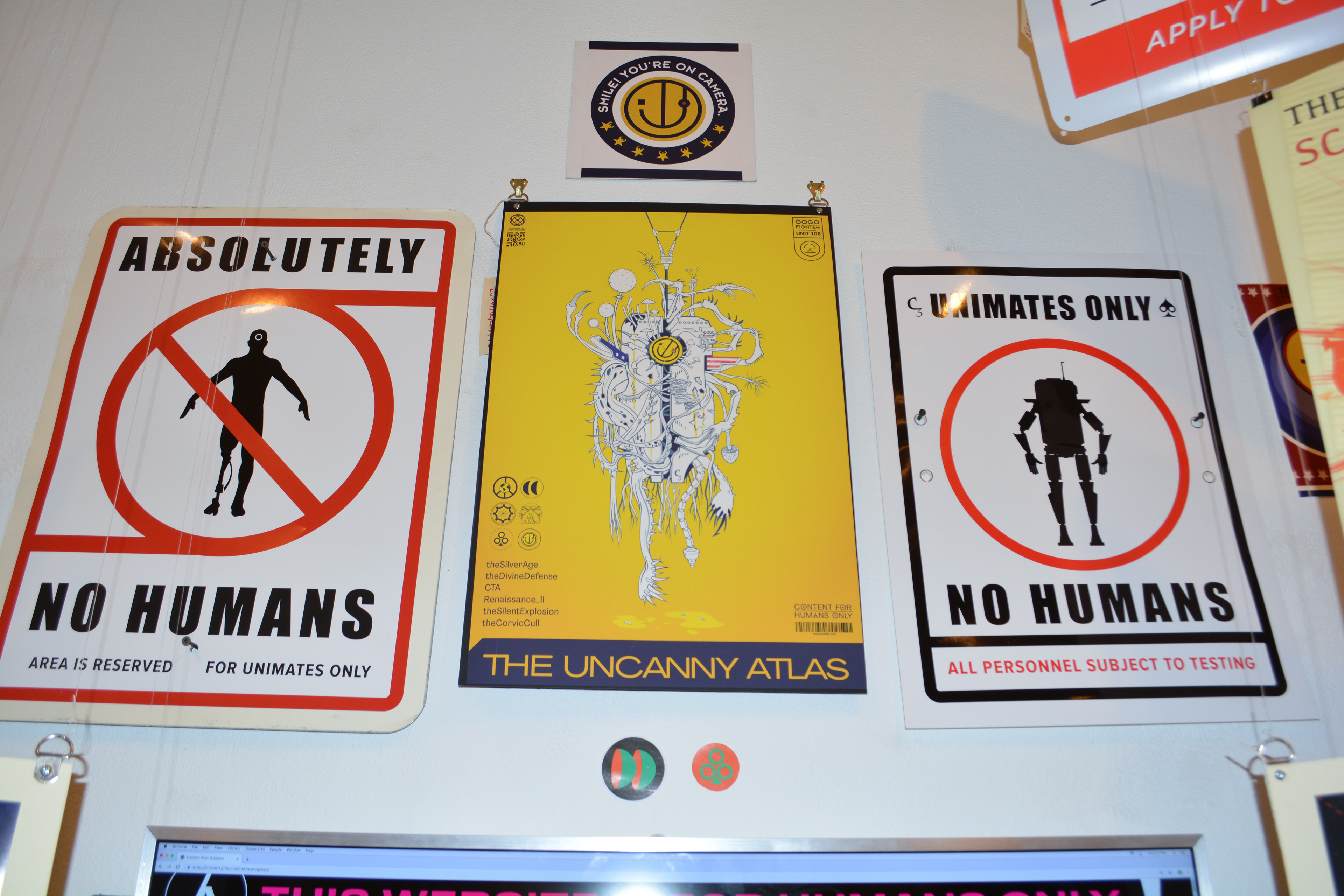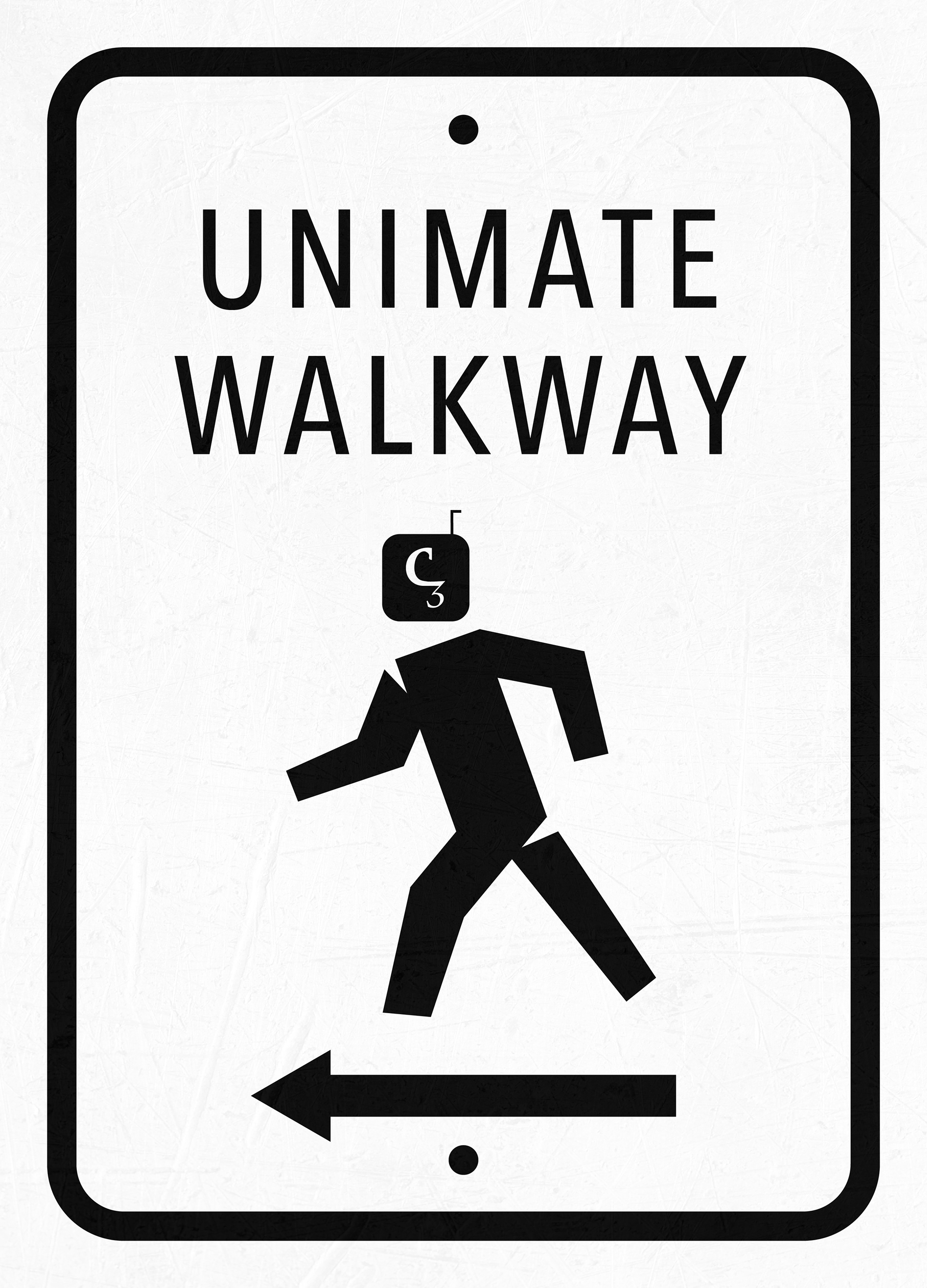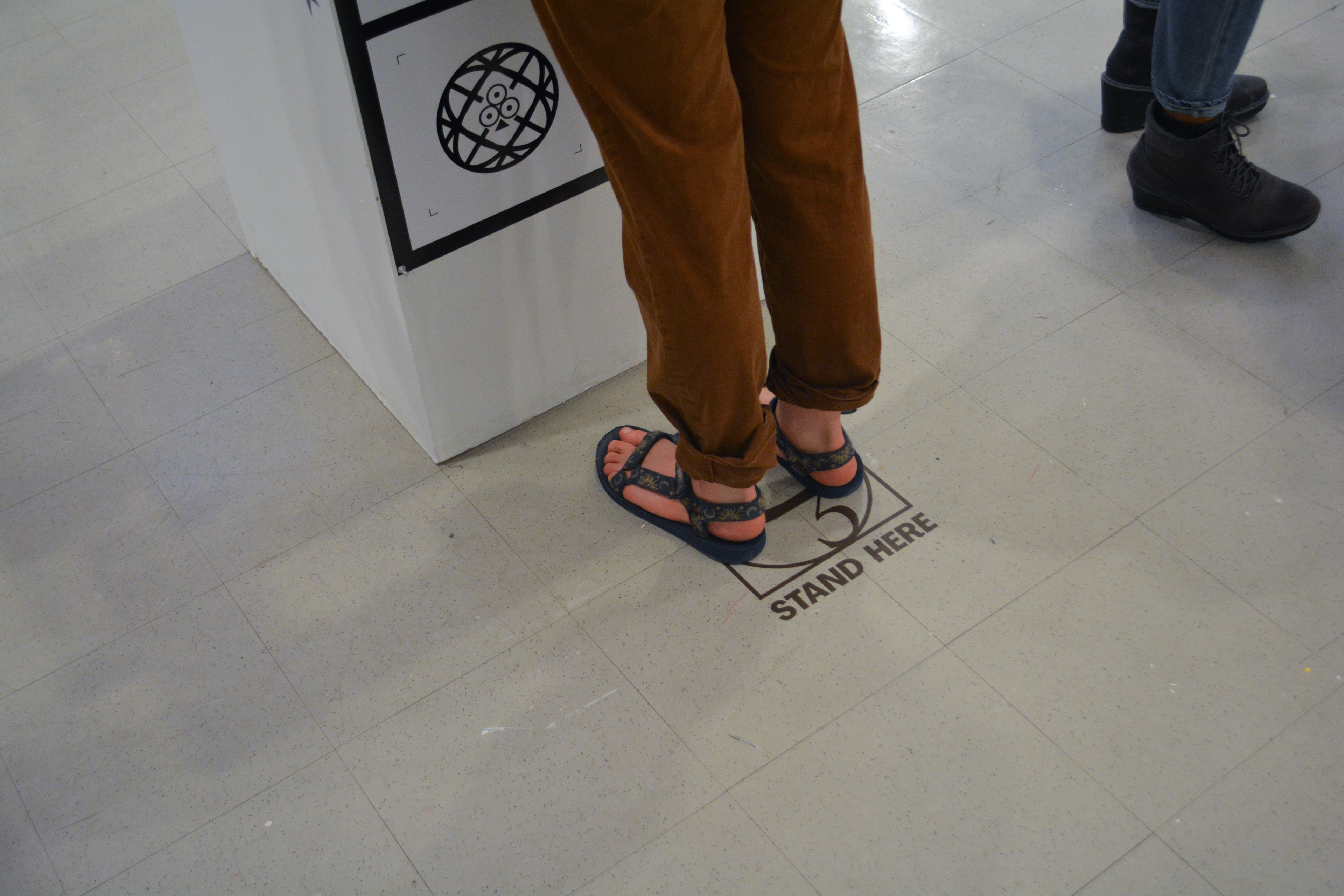 To sell the realistic element of the art objects, I created a accession glossary of every piece in this project, all listed with unique accession key numbers, titles, creators, and dates created that all also directly and accurately apply to the web archive. In addition, every art object I physically displayed had a corresponding accession label with its key written on it.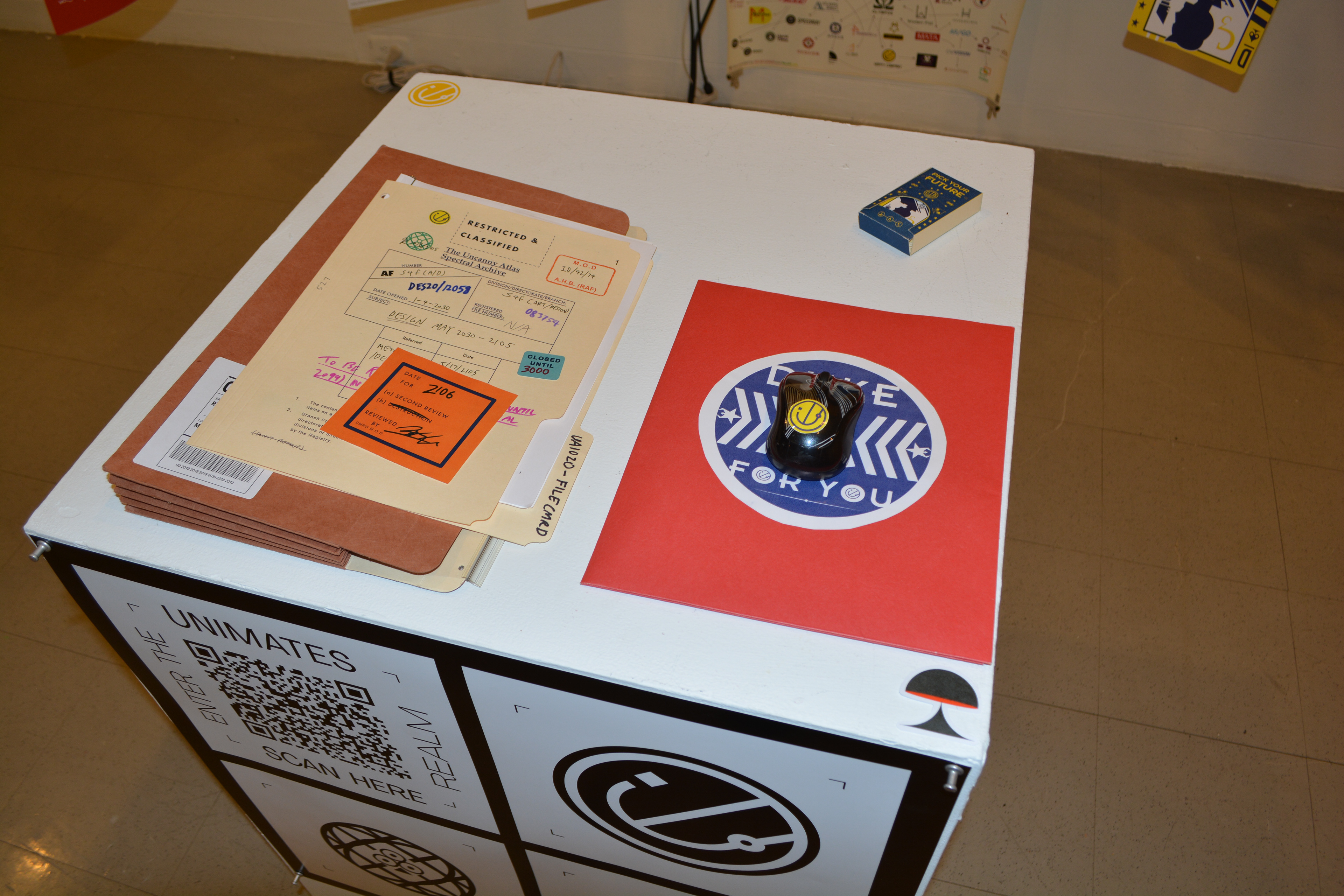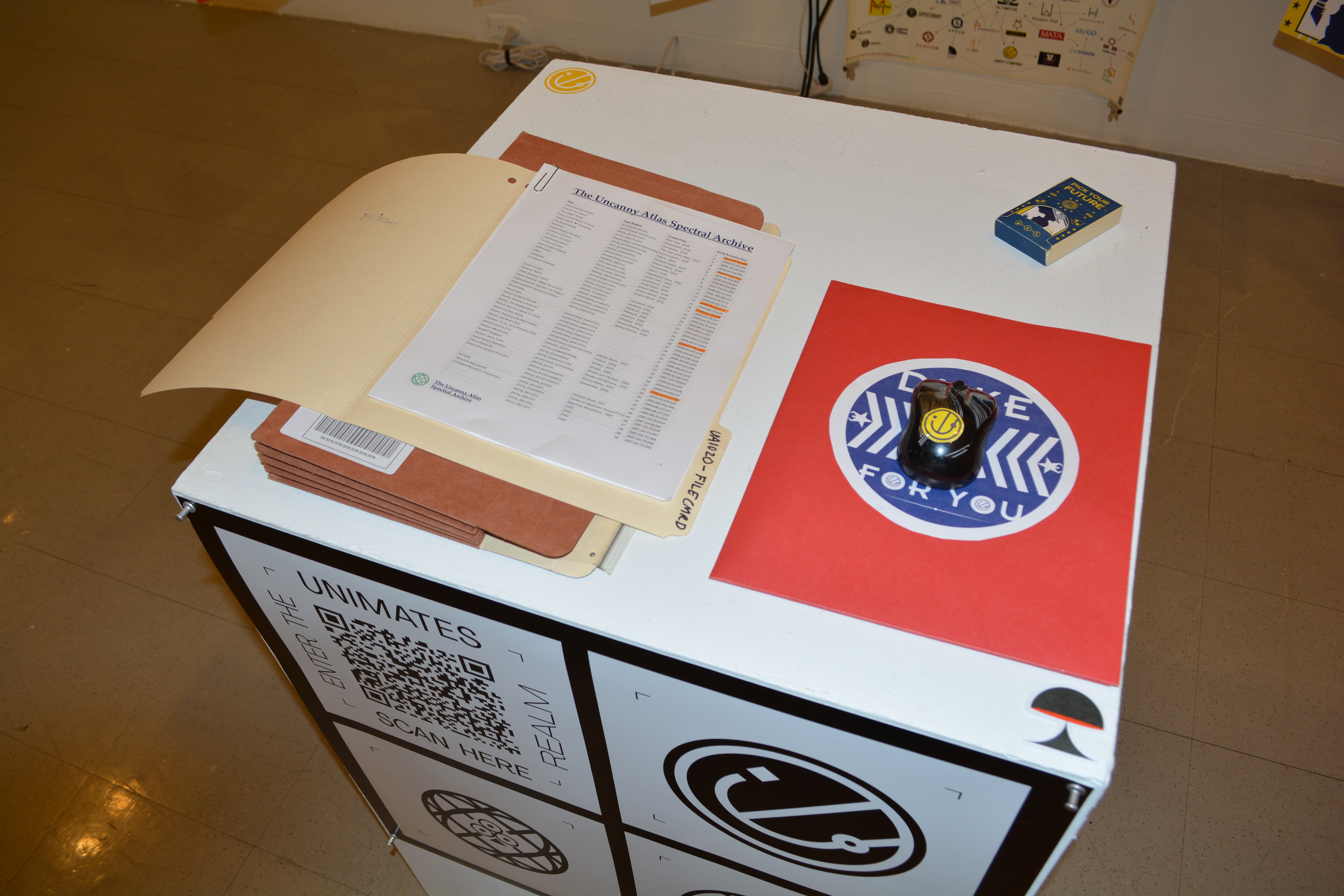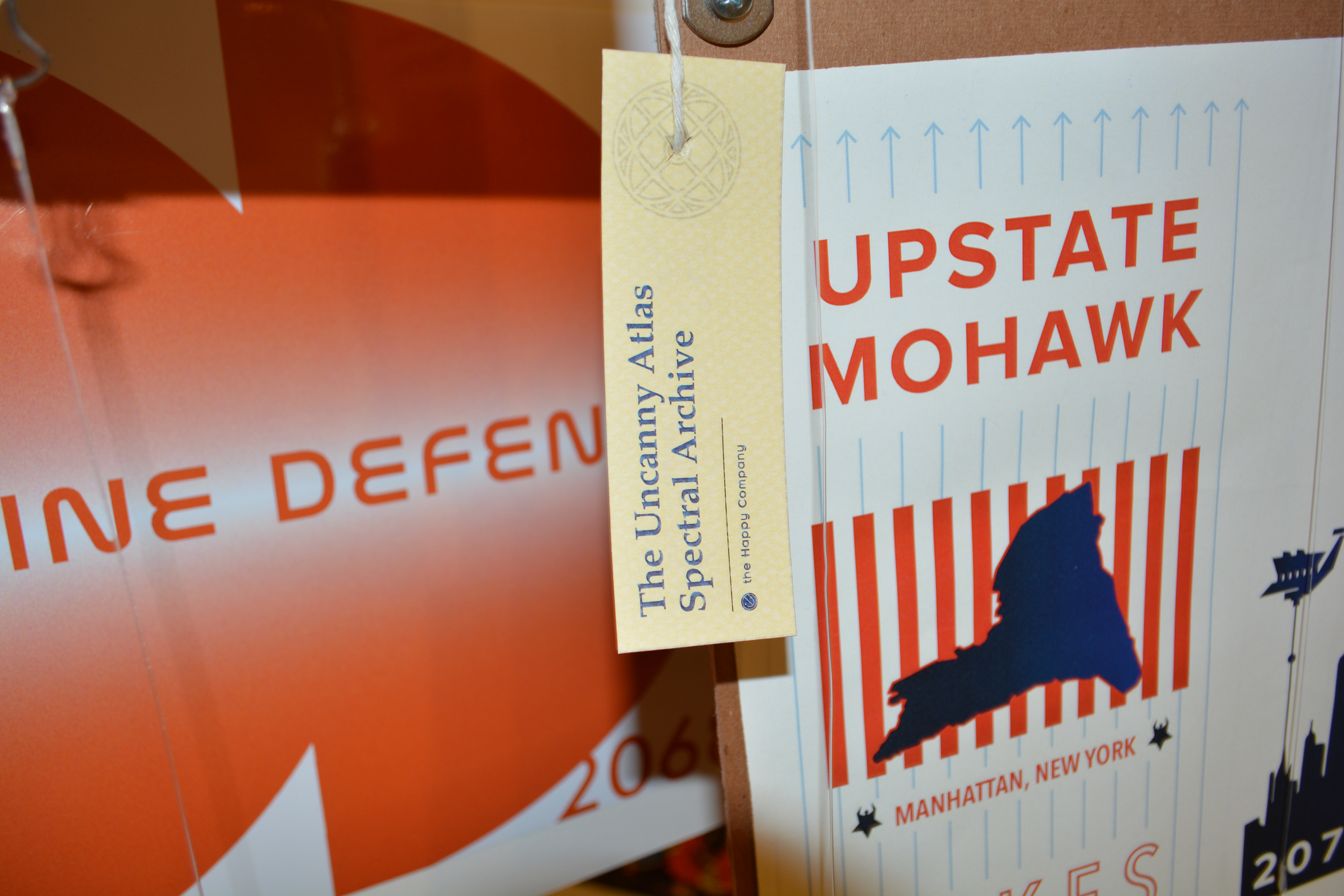 The meta-narrative style story forces the viewer participate in deducing the story, which also further immerses  and involves them psychologically.
To continue the concept of interaction, audience interaction with both the physical exhibition and the website was important. So I took measures to connect a bluetooth mouse to a miniature computer that was hidden behind the monitor in the exhibition.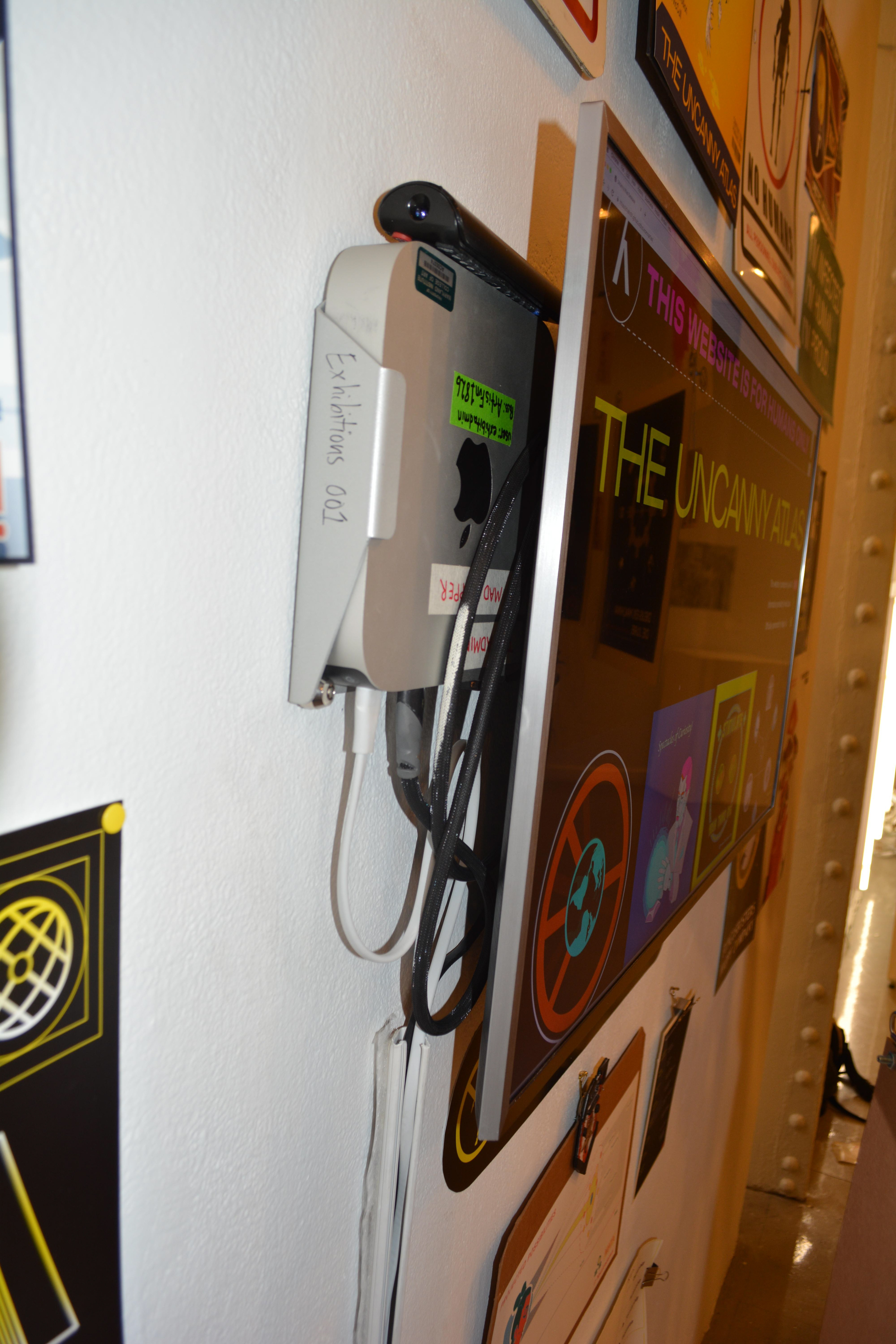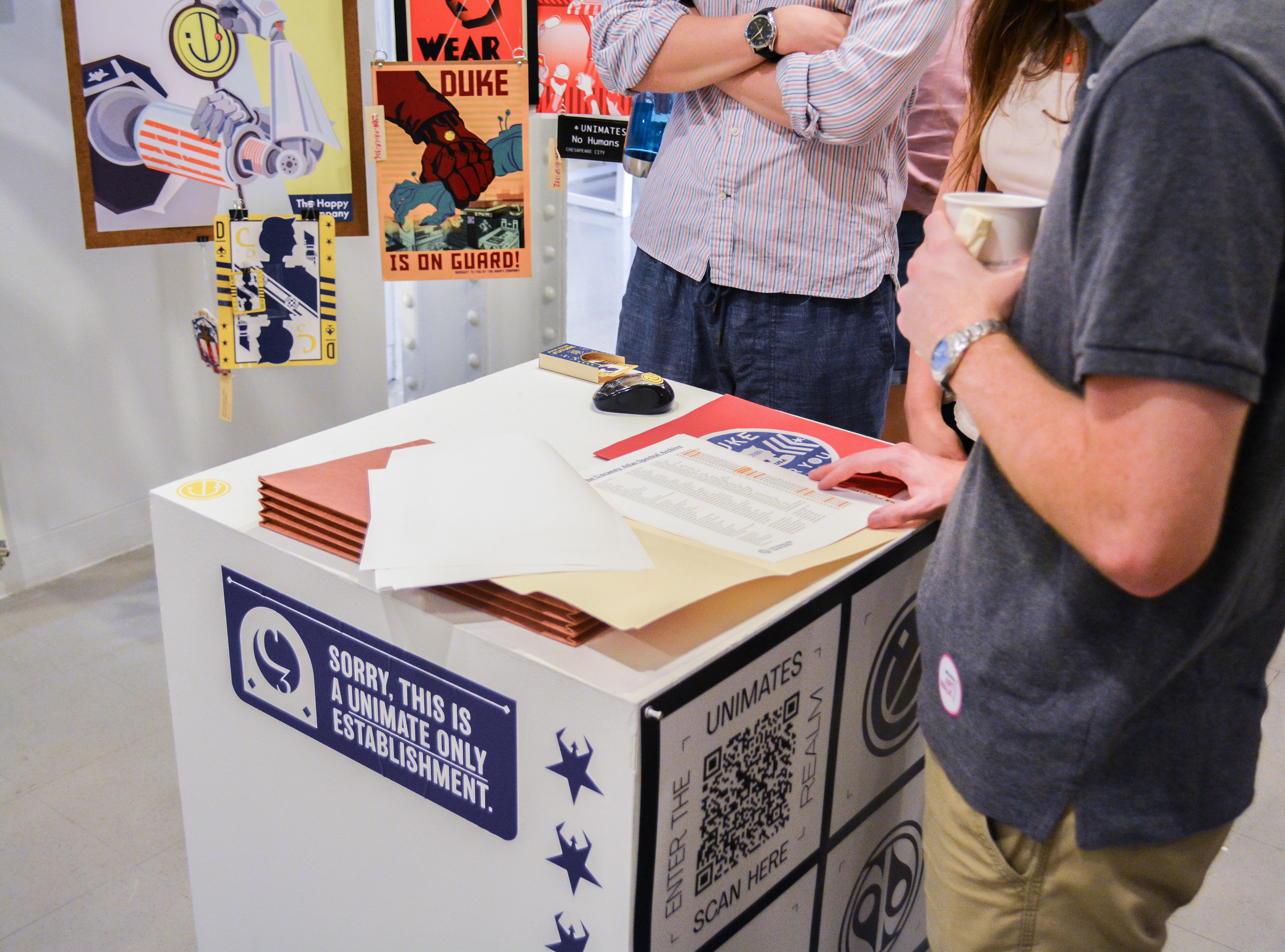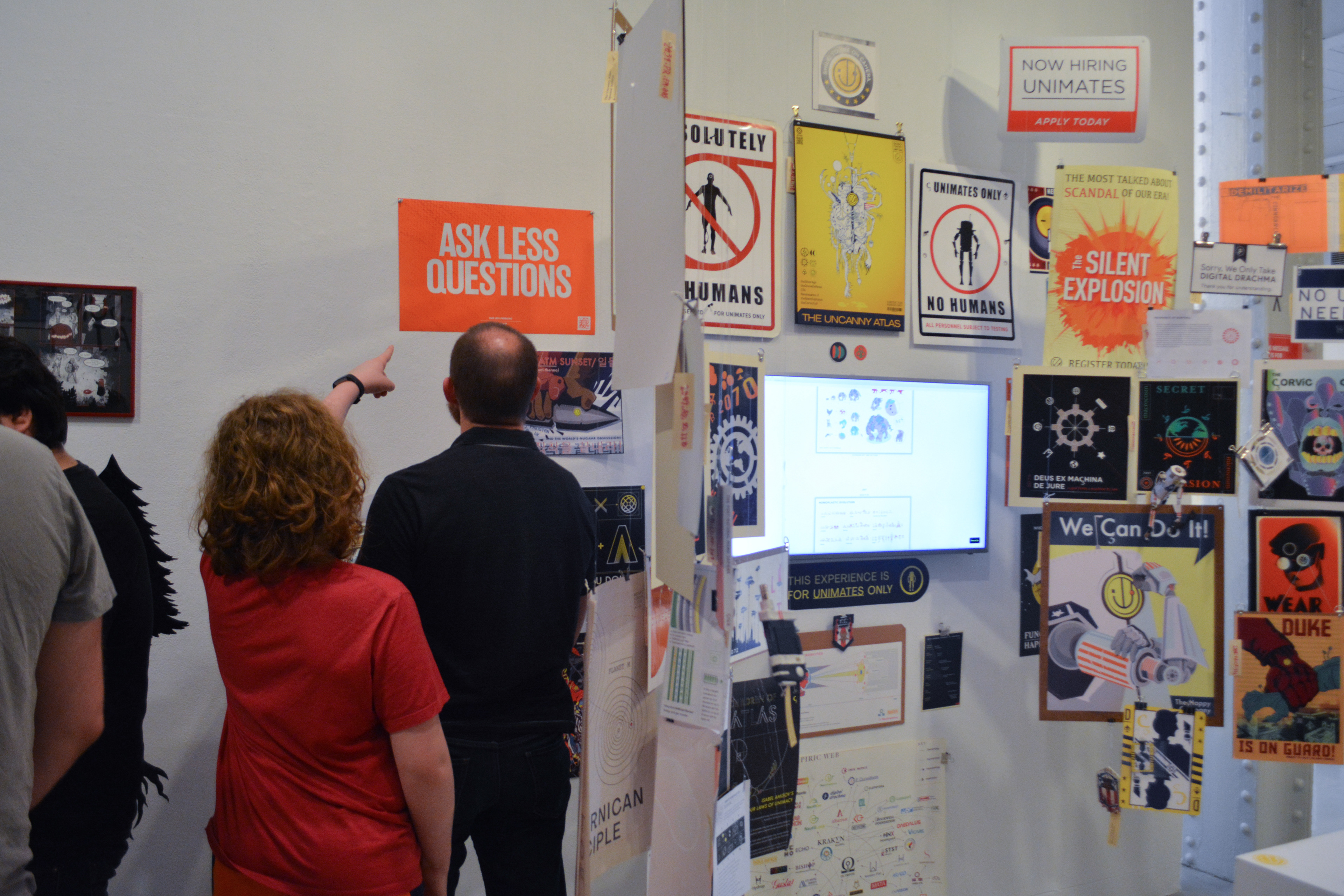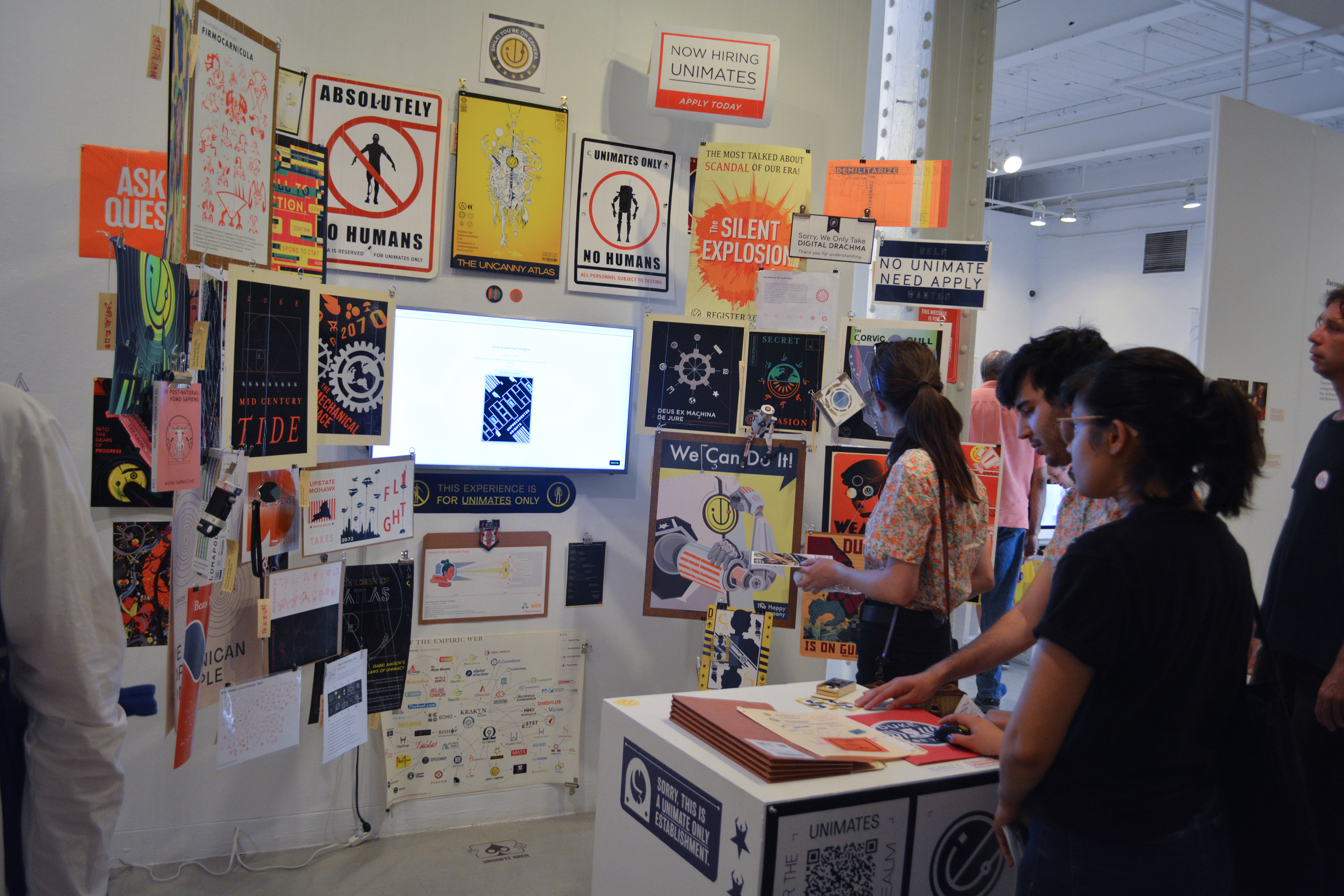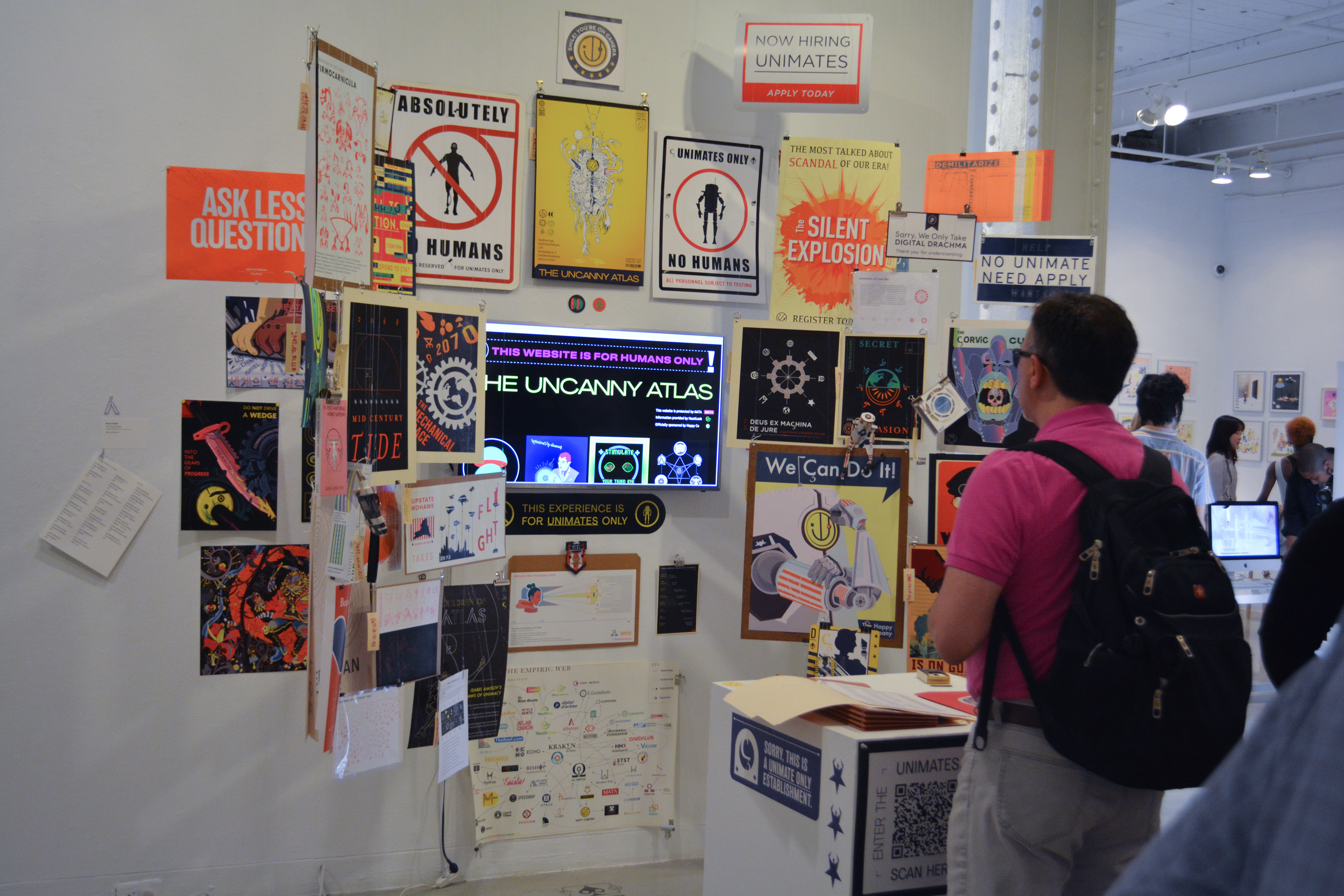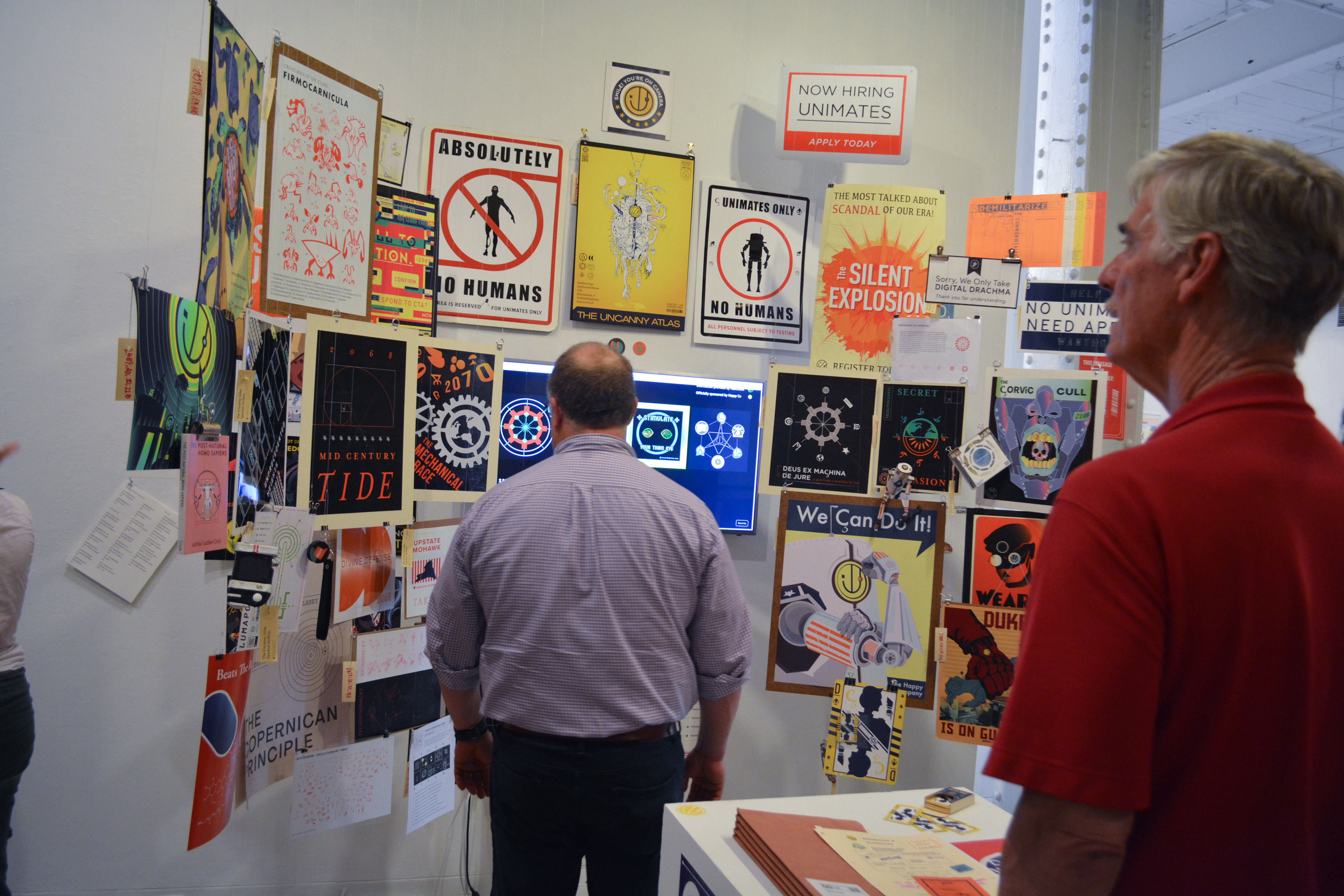 The physical works were all hung using fishing wire and eye-screws. I built in hanging rings and hooks onto many of the pieces for aesthetic harmony and convenient installation/deinstallation.
The cornucopia shape also provided more room to hang artwork on the walls.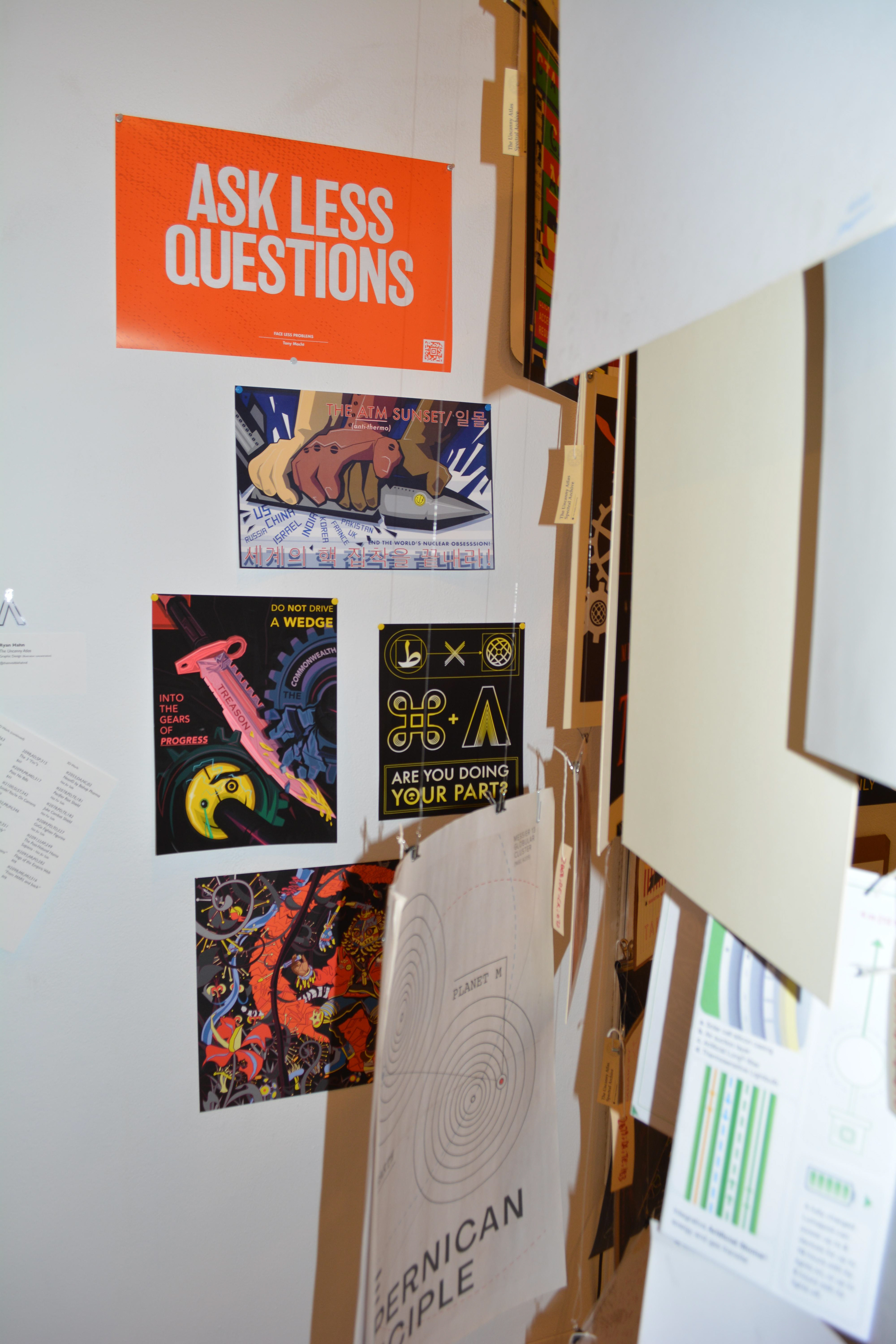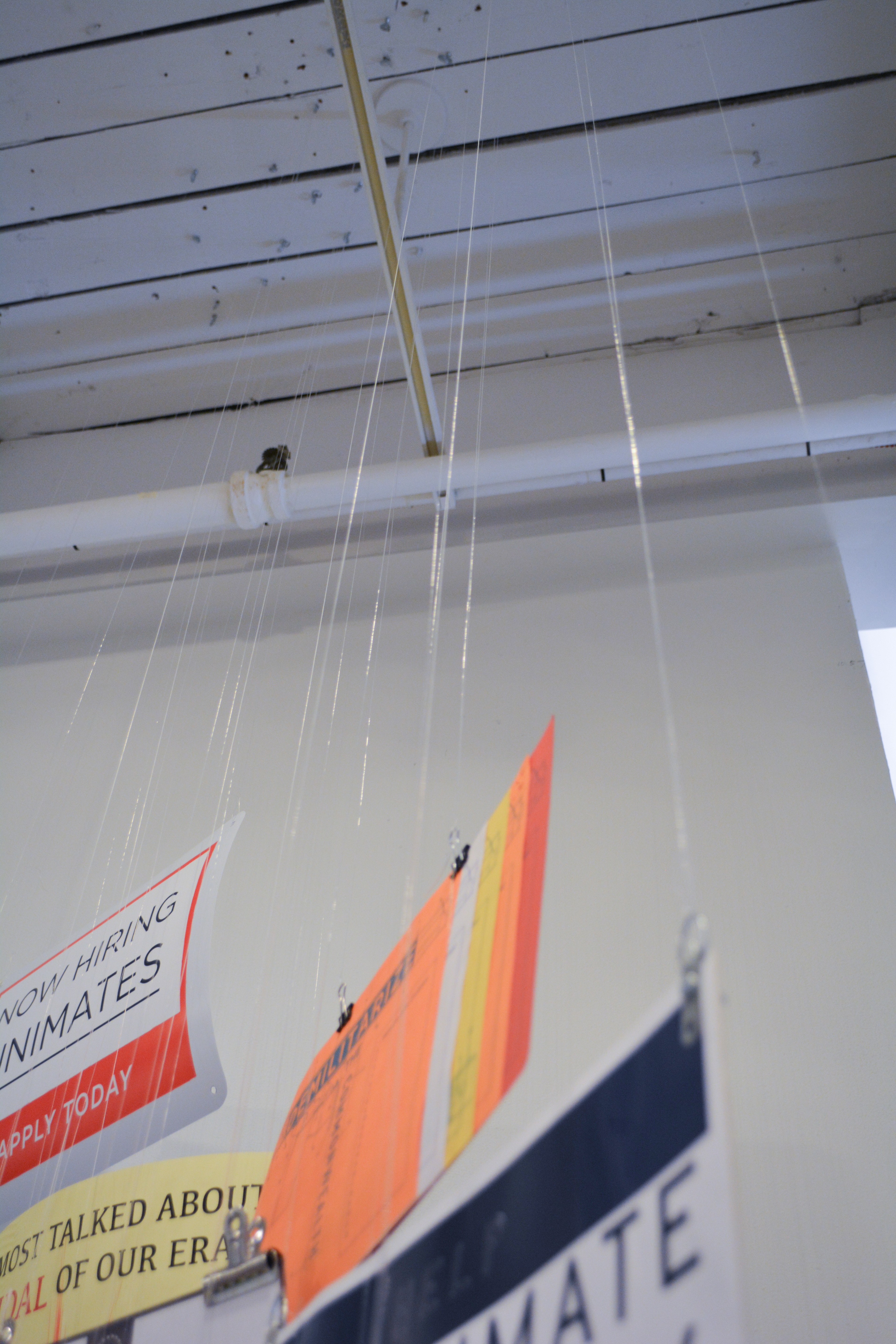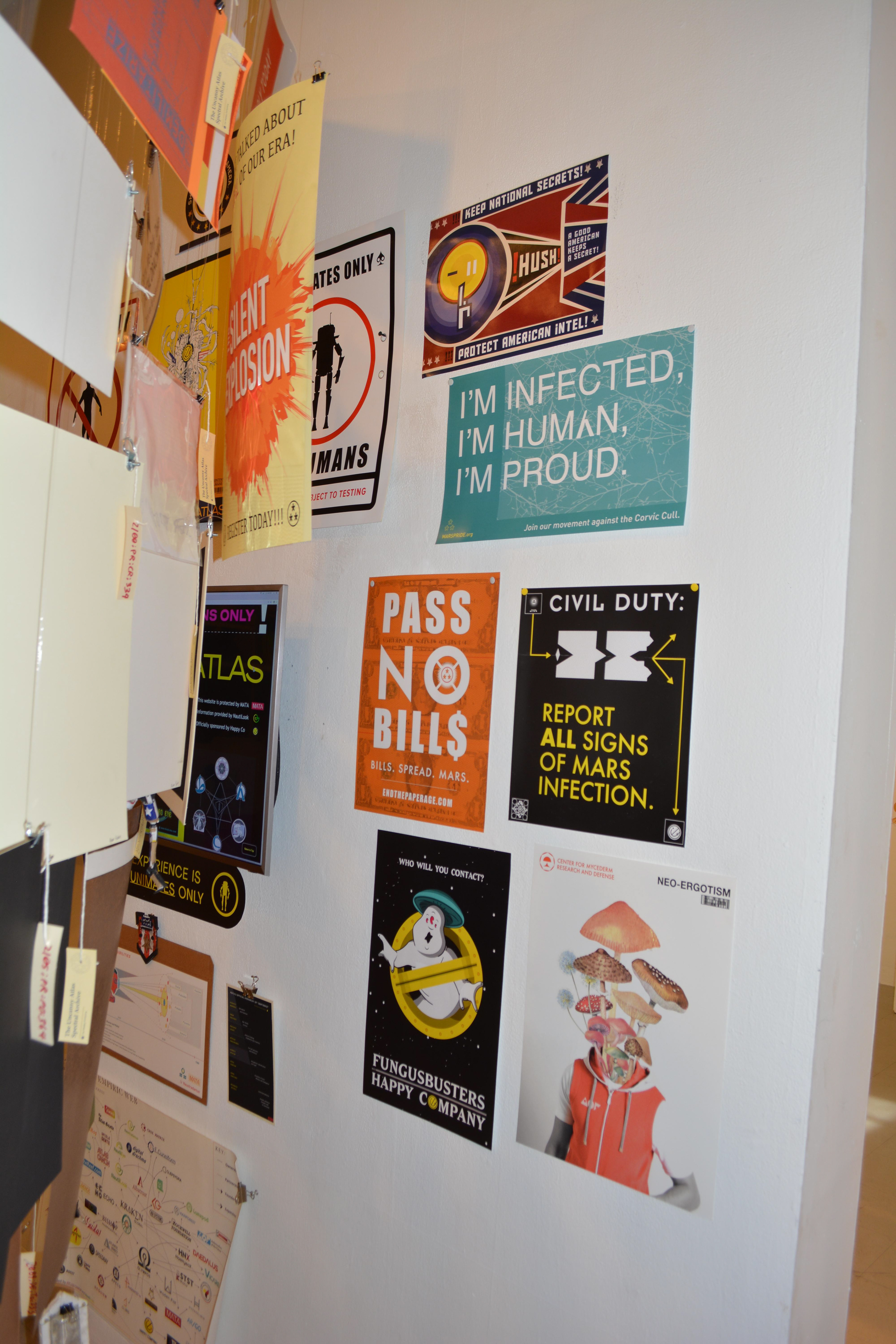 This dark horizon that runs horizontally throughout the display had many functions. It created a focal point which the viewer can follow, and blends the monitor among the physical work. 
The pieces of this "Dark Horizon" are 6 of 9 "chapter-head" pieces that represent the major events and conditions of the era which they are from, and mimic the organization of the web archive. 

With permission, I bombarded my and the surrounding area with stickers of icons and brands that exist within my narrative.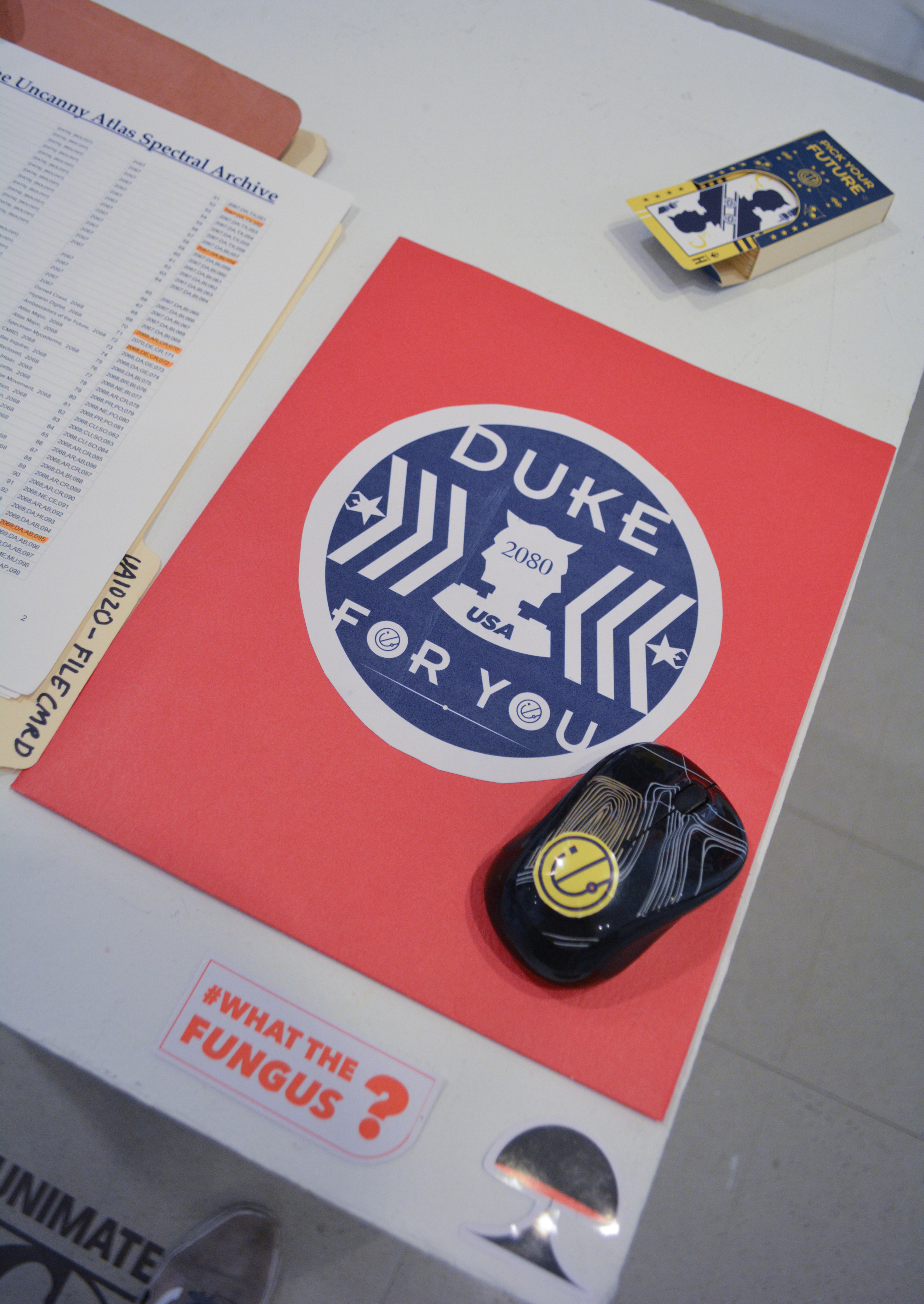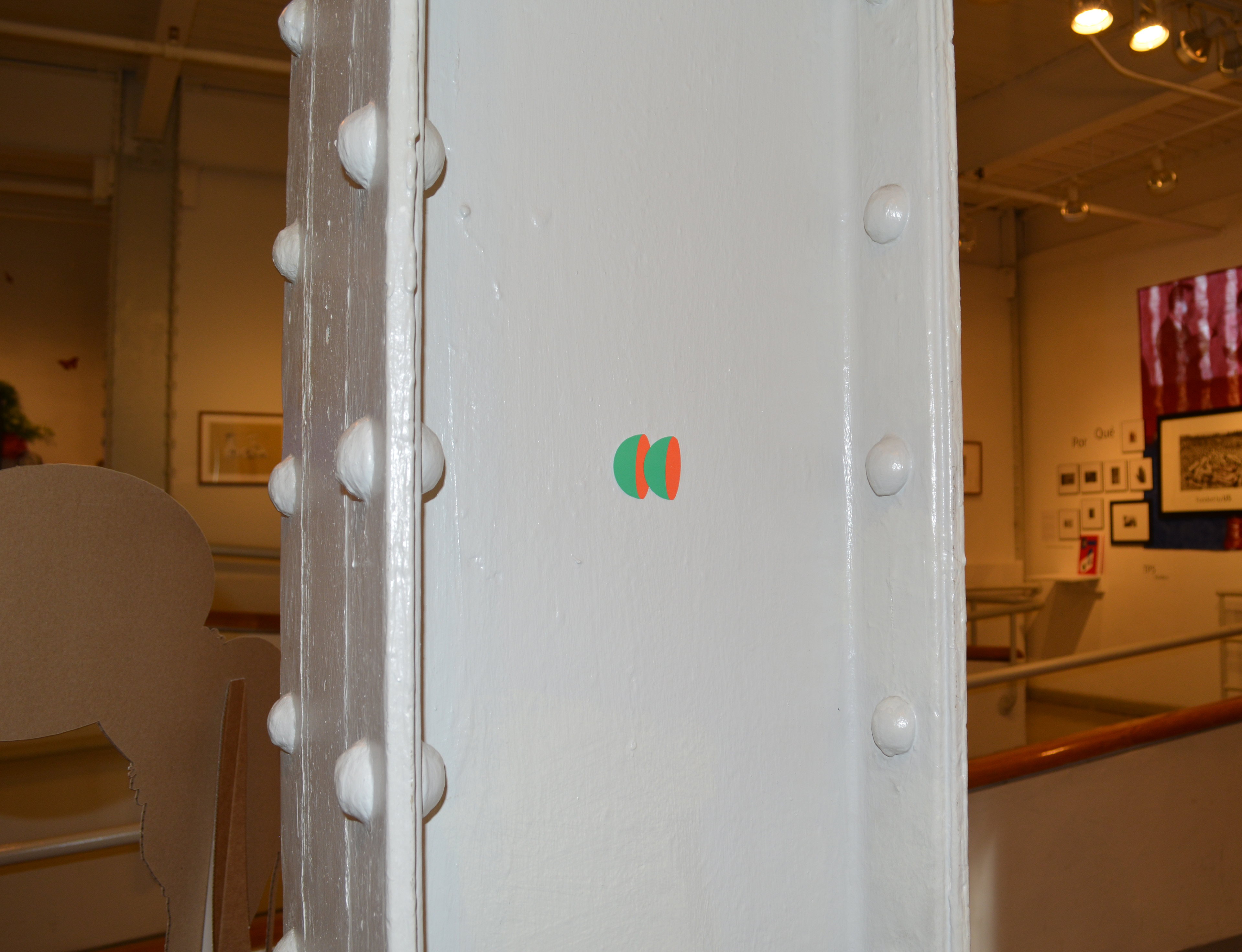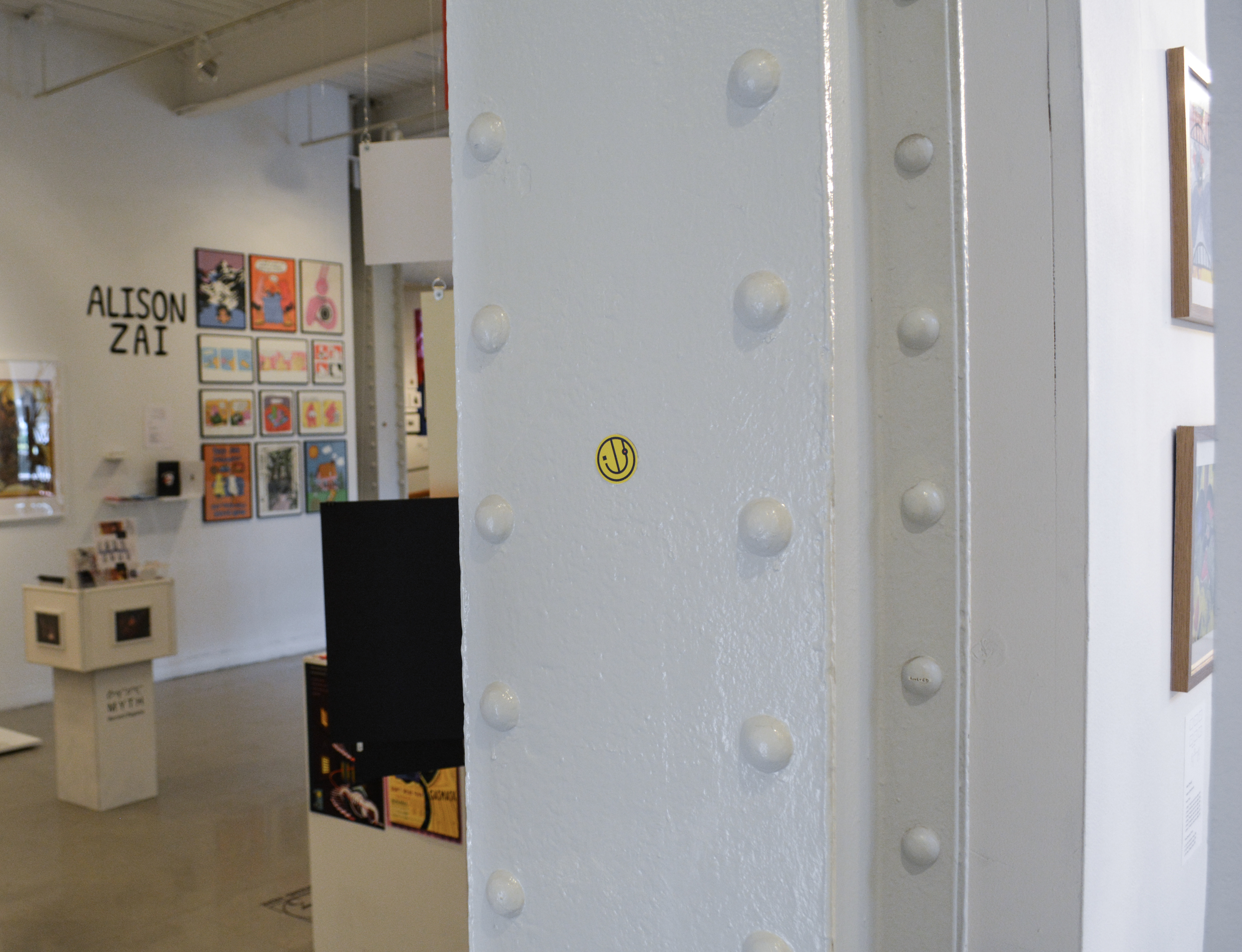 As it was important for me to see all pieces as a whole as I was making them, I worked on almost all designs from 1 main Illustrator file. It may look like a total mess, but they are somewhat organized (to me) by area of time.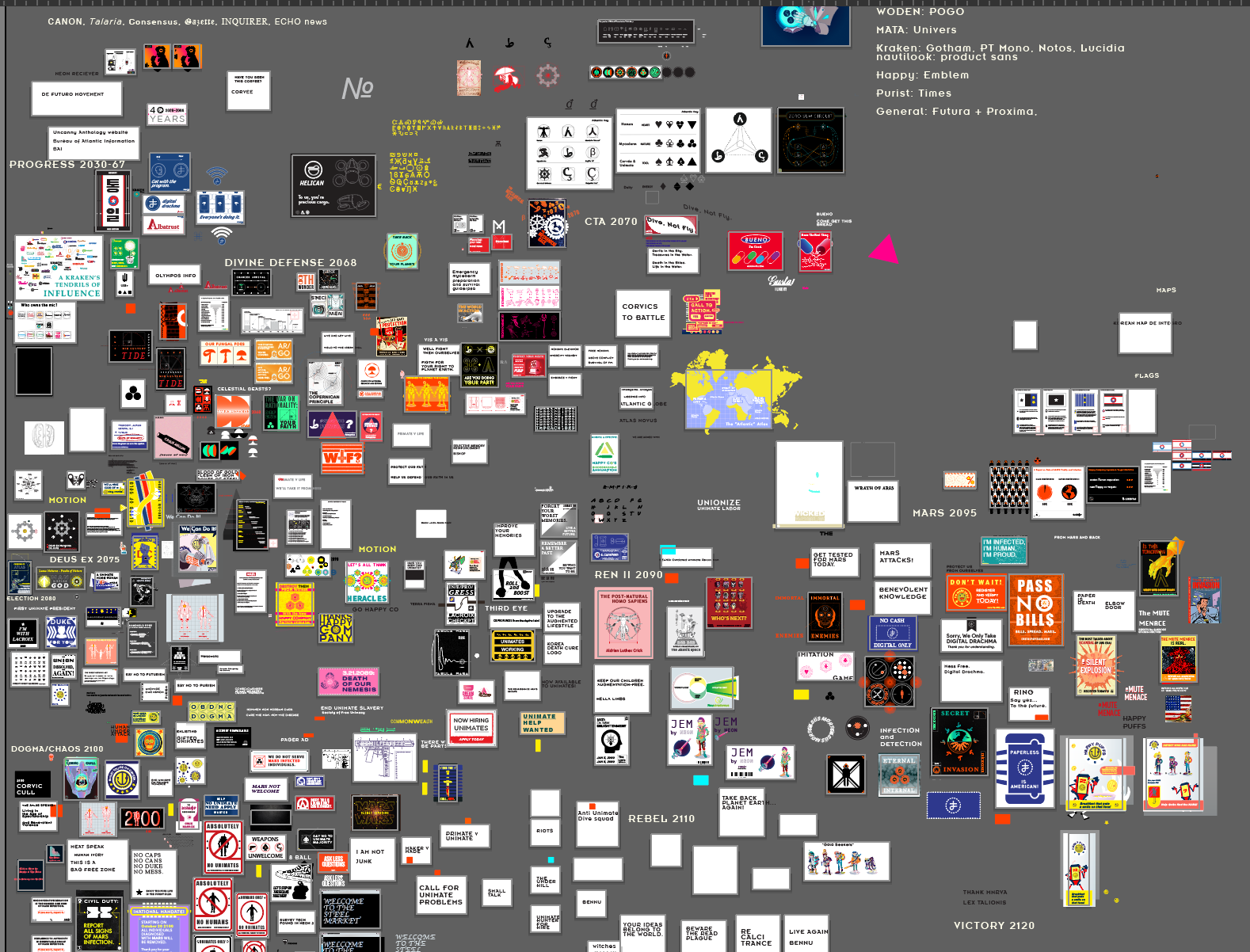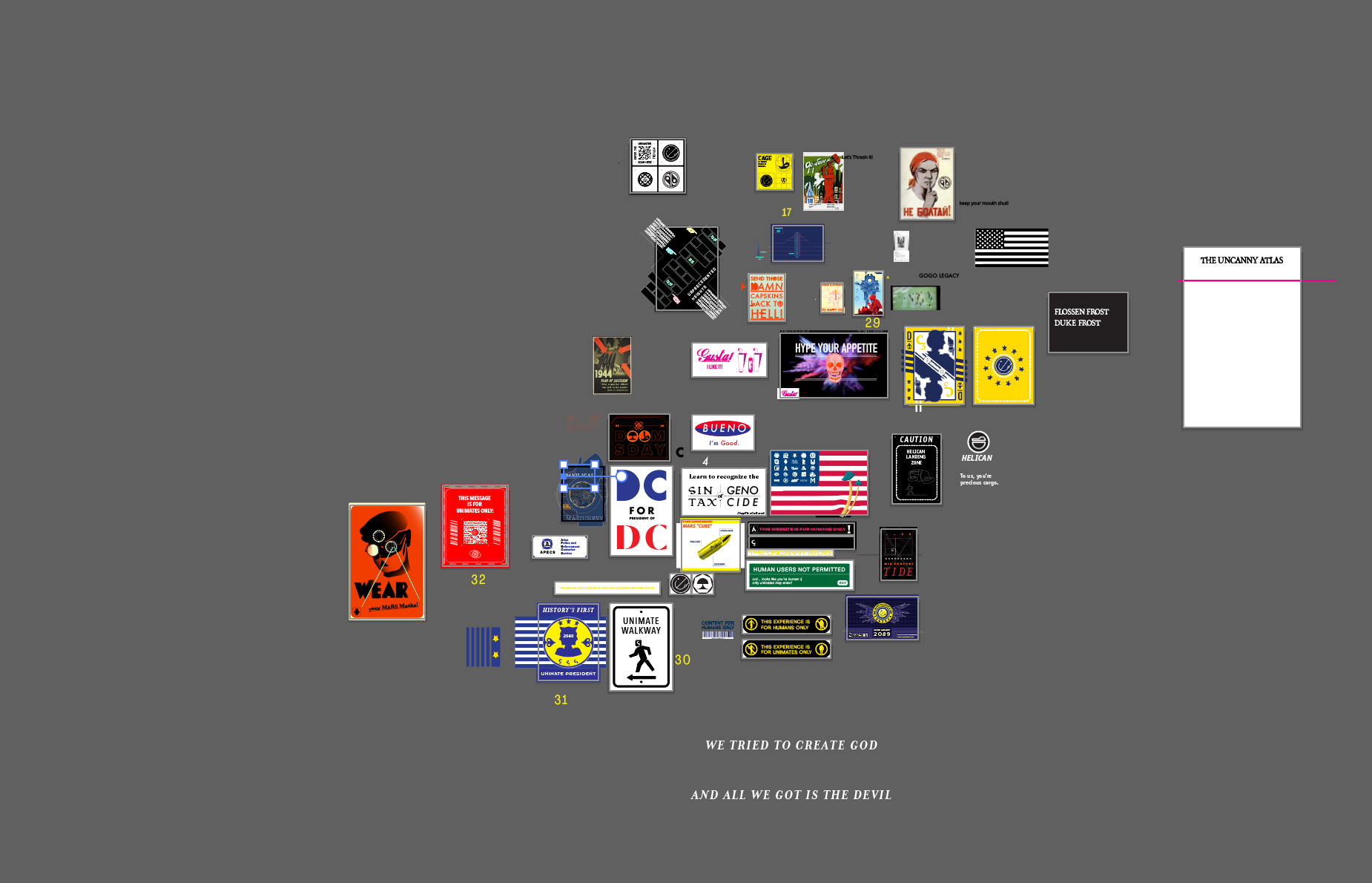 API essentially regulates the flow of stored images into the web gallery. ​​​​​​​

This Google Sheet document labels and categorizes all of the images that is displayed in the web gallery, as well as add tags, descriptions, links, and numbers. 
I used "Sheety", a free API creator, to turn this Sheet document into an API which translates this listed information into html compatible text. T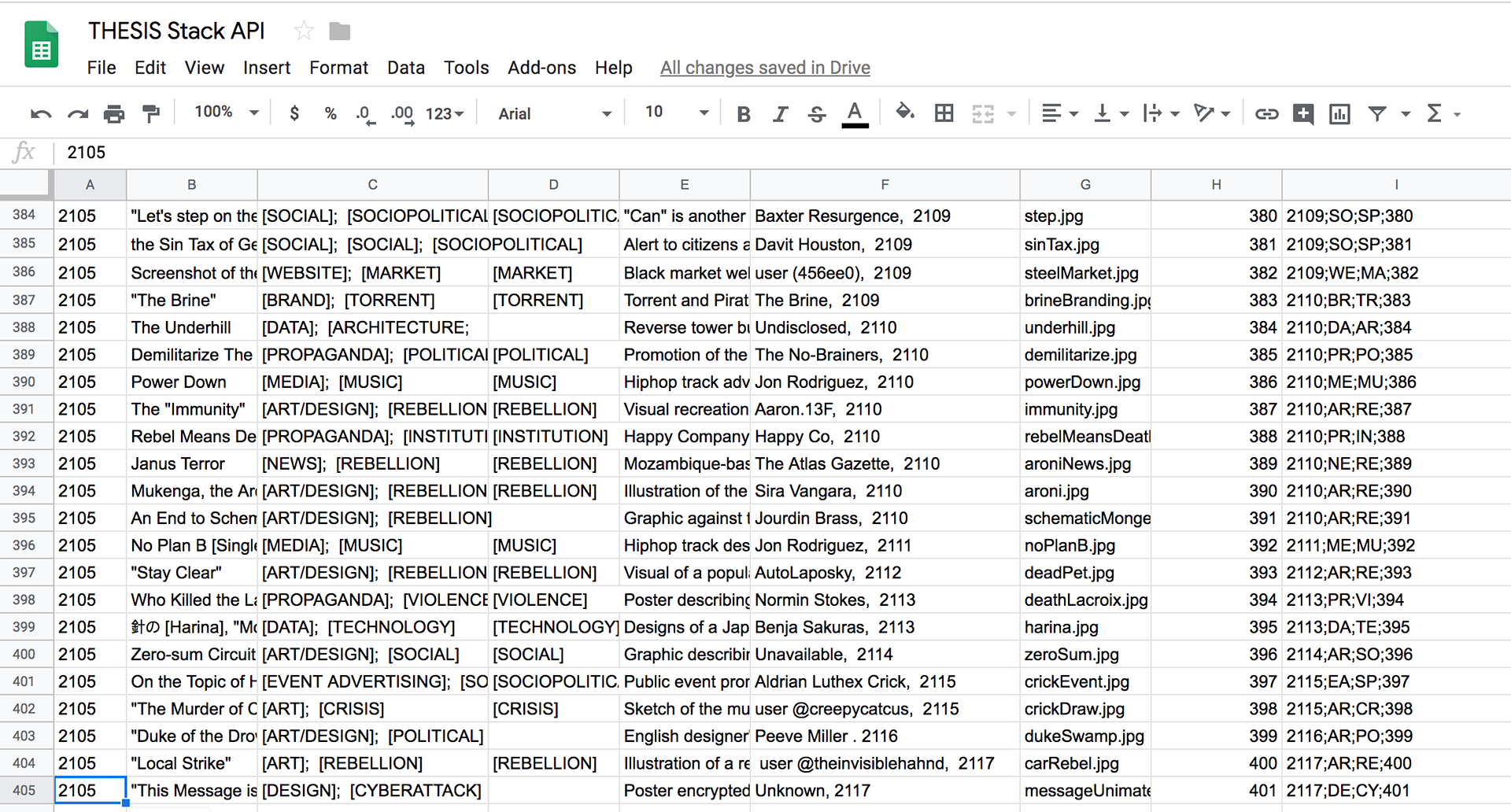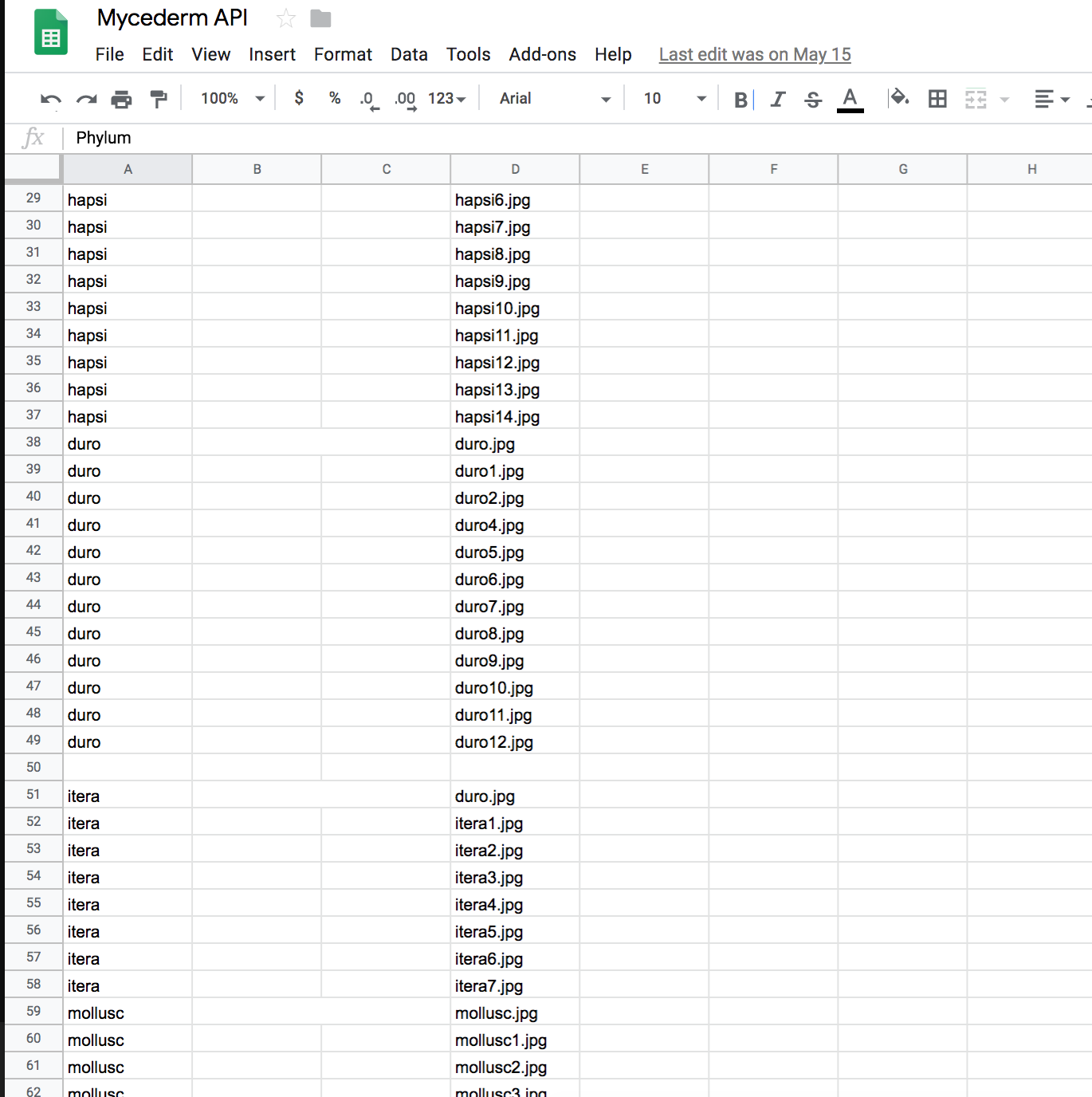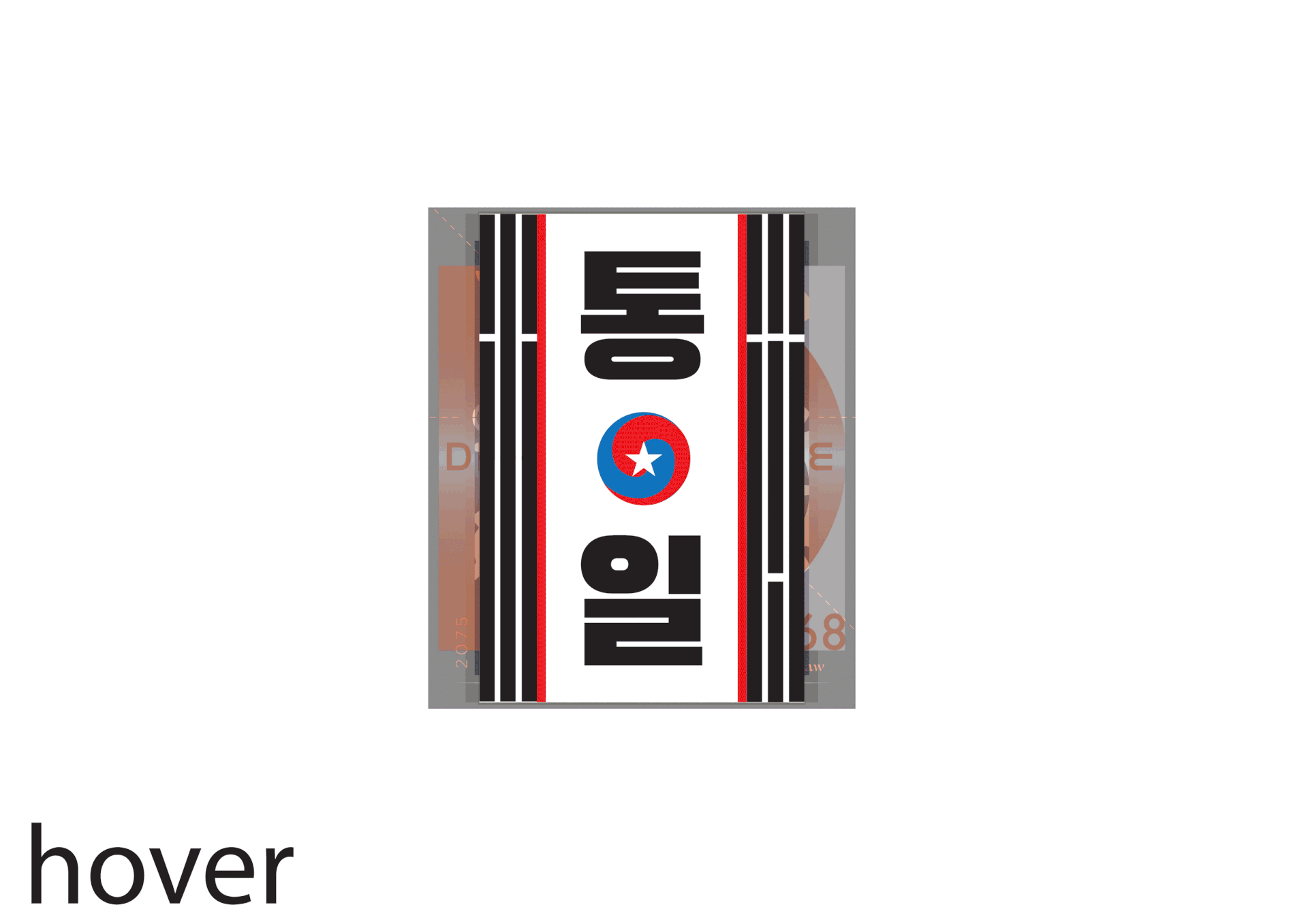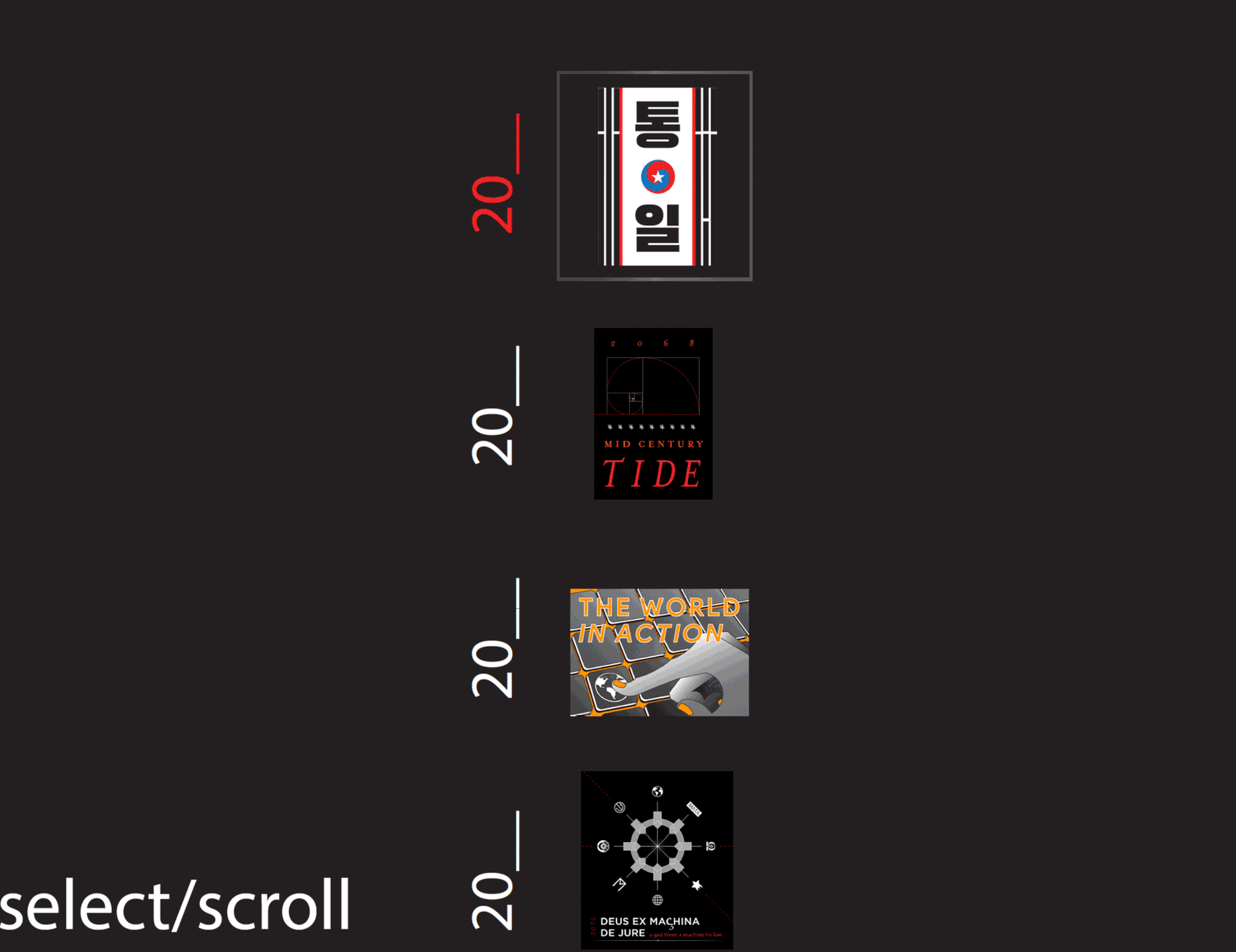 Once I had the overall interface/experience mocked up and planned out, I used Brackets to code the website. 
HTML (+ Jquery): 
CSS: 
Glossary, Tags, and other physical supporting elements:
​​​​​​​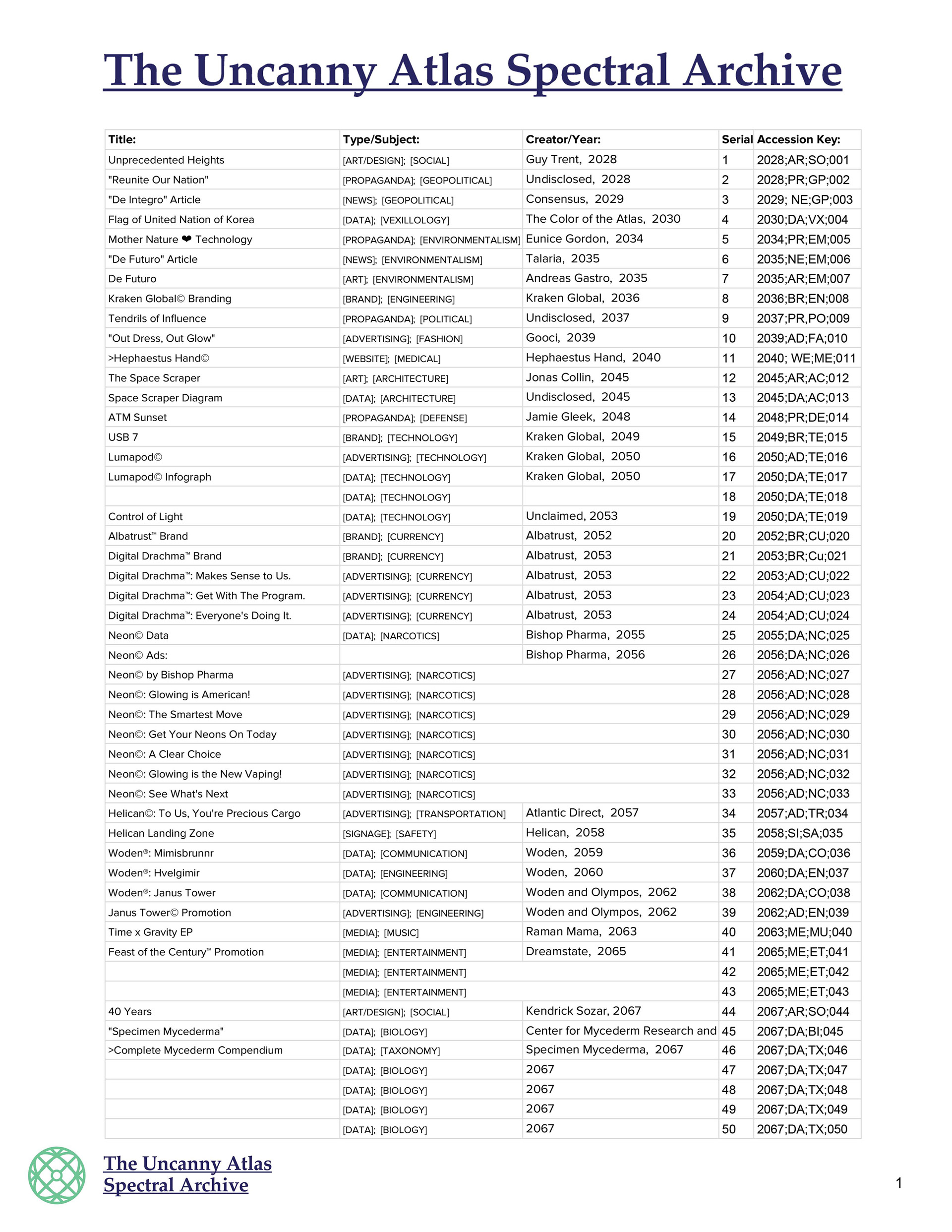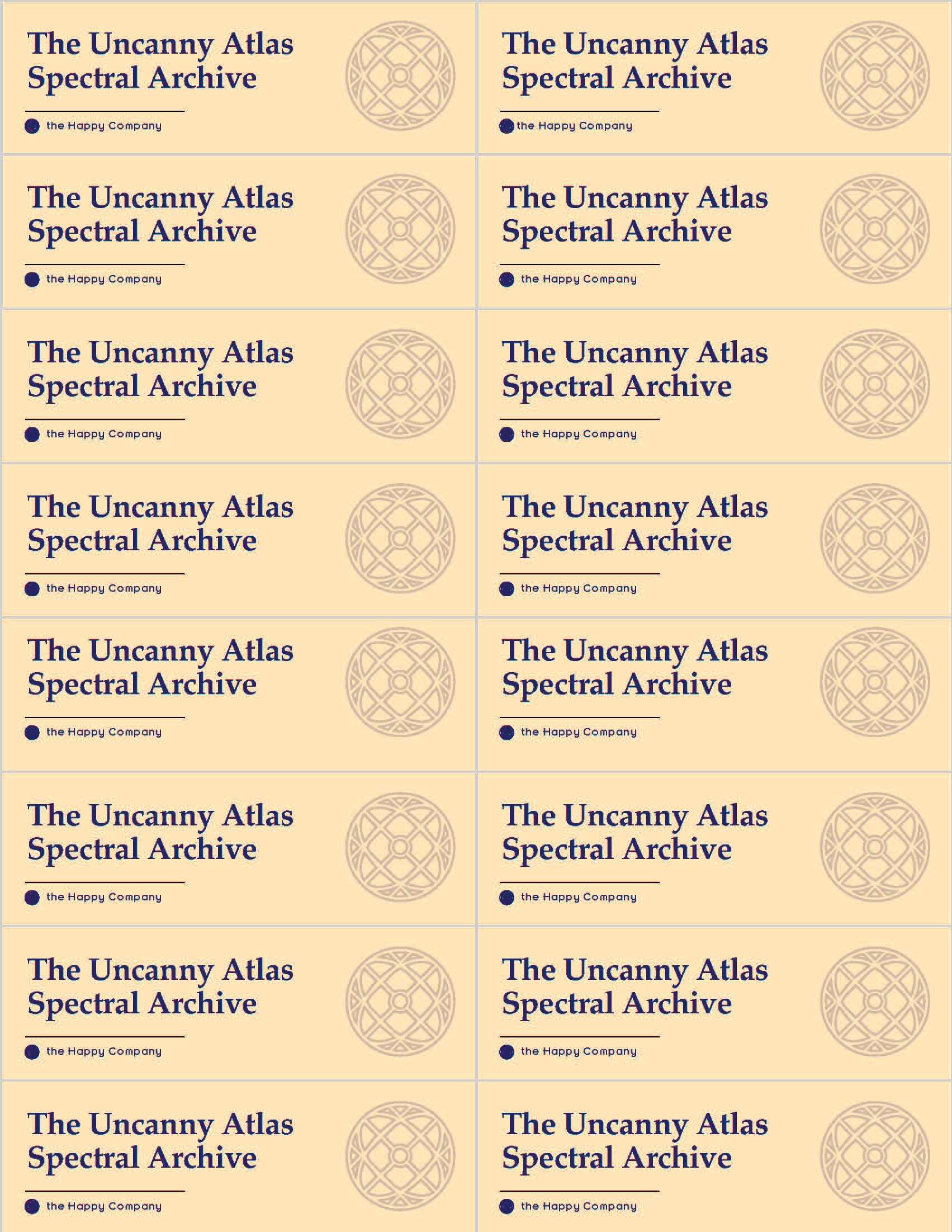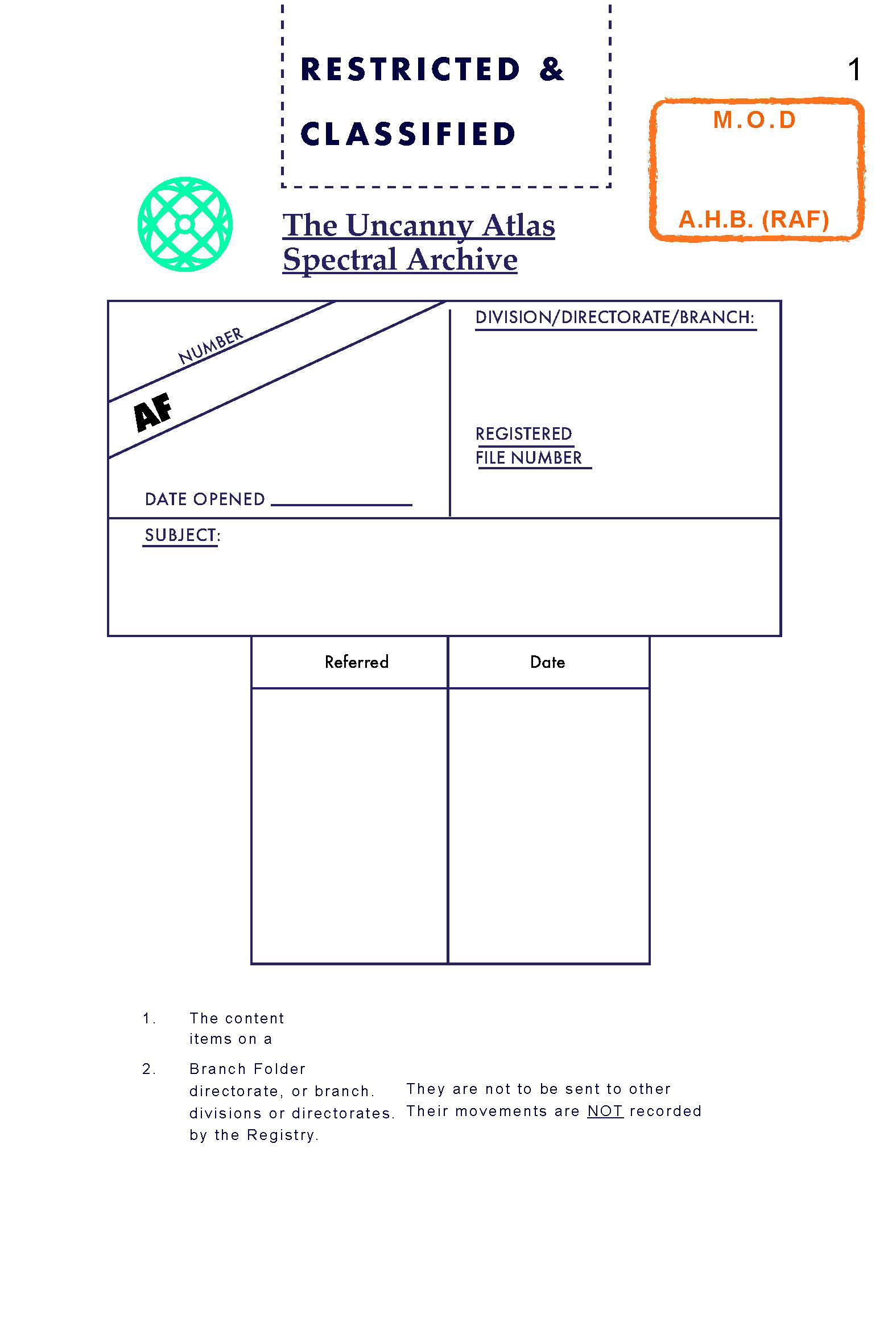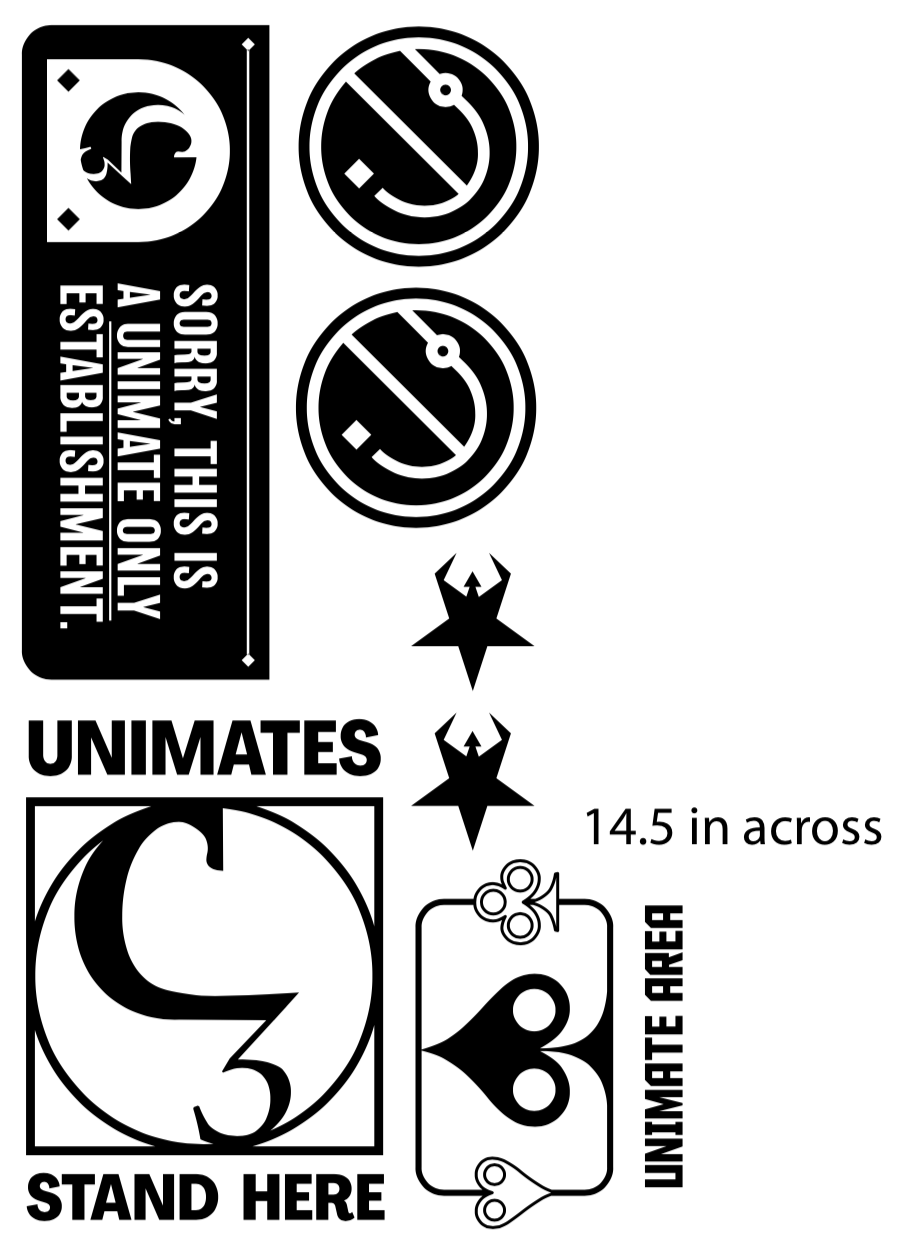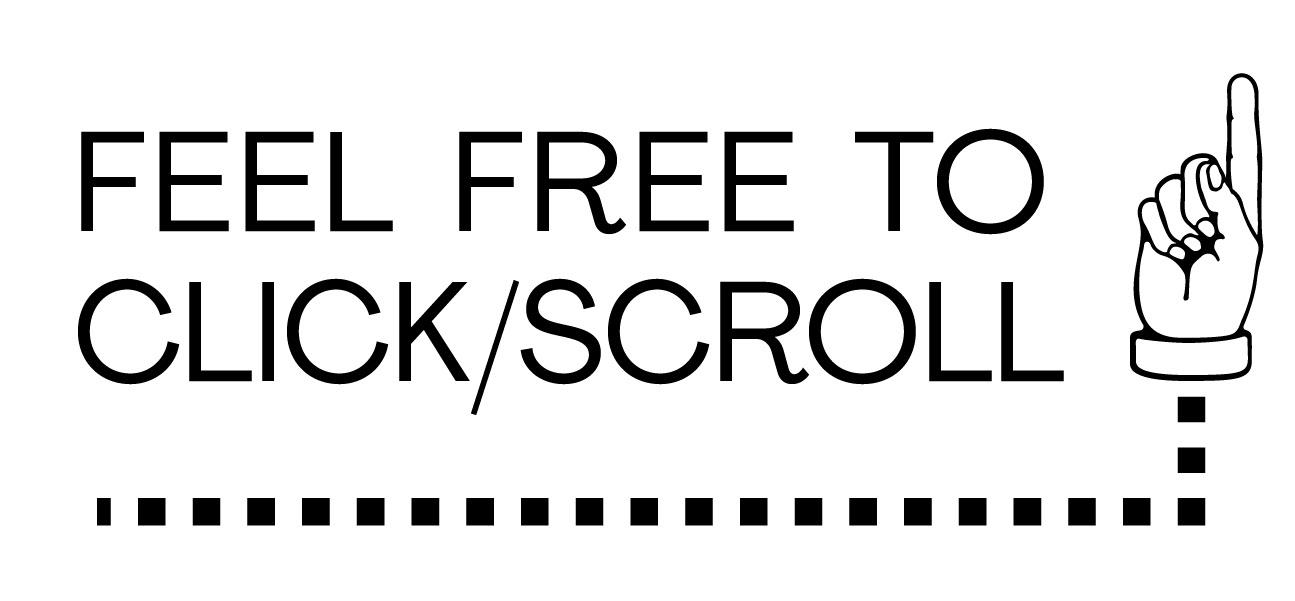 As a part of the thesis show, we were provided a 7ft by 7ft square to display our work. With this in mind, I created a large display that uses the square space efficiently.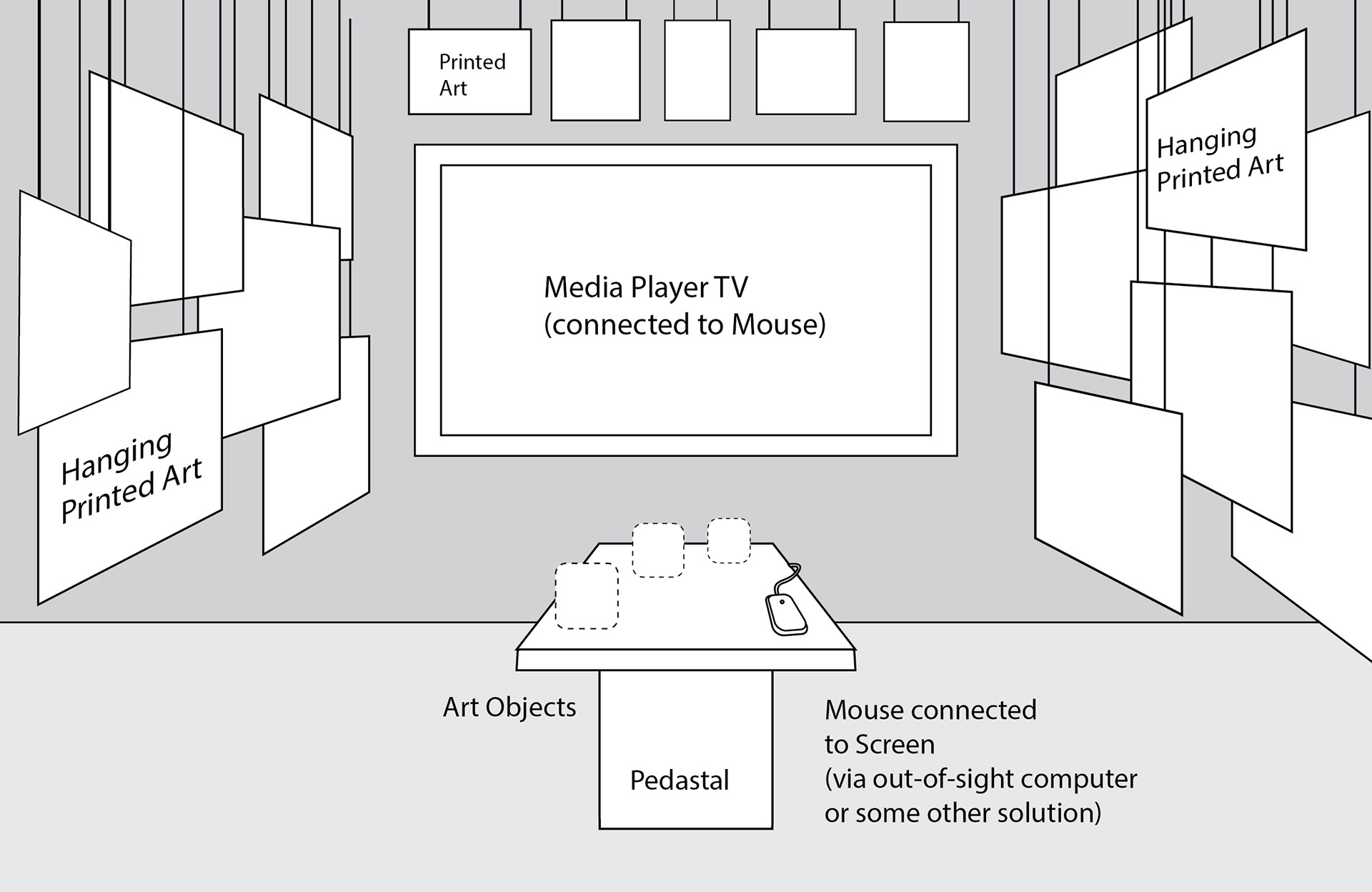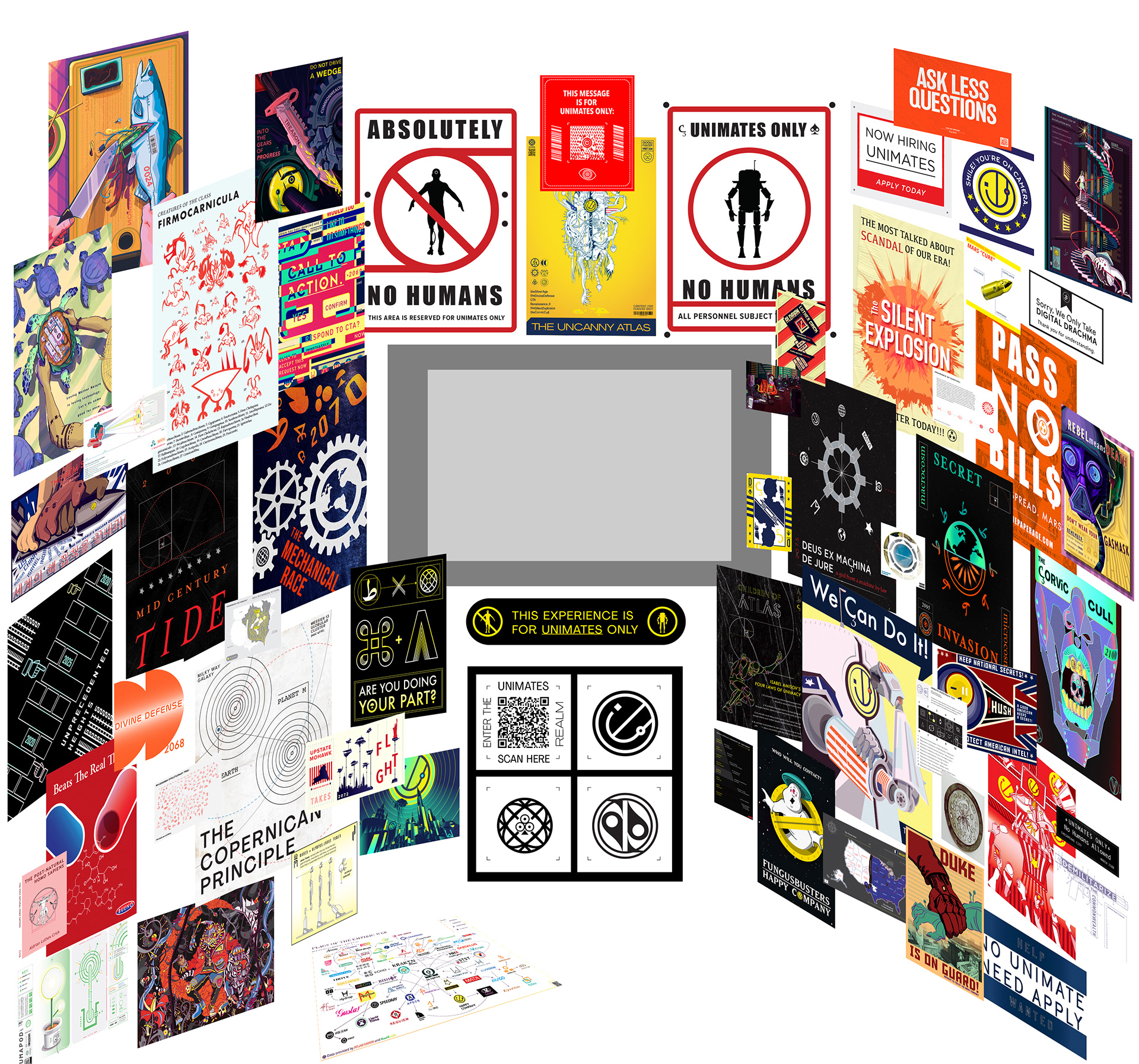 Solo installation process took about 20 hours.